Best App to Make a Photo Slideshow – Want to have the best photo slideshow app? Today you will surely find the right option. When you go to a memorable event, you often take hundreds of photos and try to immortalize them. The best way to preserve those memories is to create a high-quality slideshow.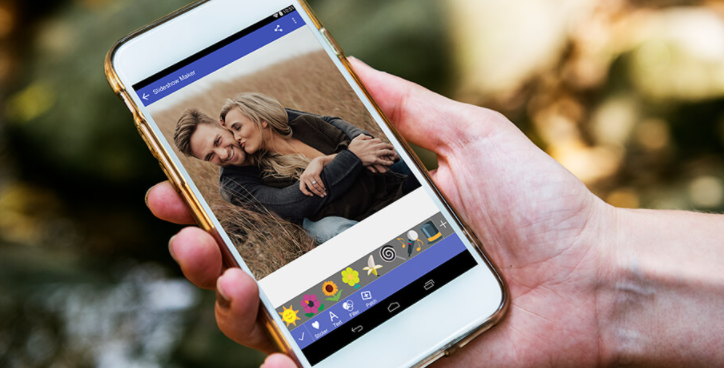 Below, I'll present some of the best slideshow apps for iOS and Android devices so you can choose the best option for you.
Recommendation Best photo slideshow app for iPhone and Android.
You can upload slideshows to YouTube, your website, or social networks. The best photo and video editing apps are easy to use, so you can easily learn to create professional presentations.
Using a free video editing app (list of best free video editing apps) that can help you achieve the same goal can be quite difficult, but I've done my best to simplify this task for you by choosing only the best app to make a photo slideshow.
The Best App to Make a Photo Slideshow
1. PicPlayPost
The best slideshow app for iOS with the most features.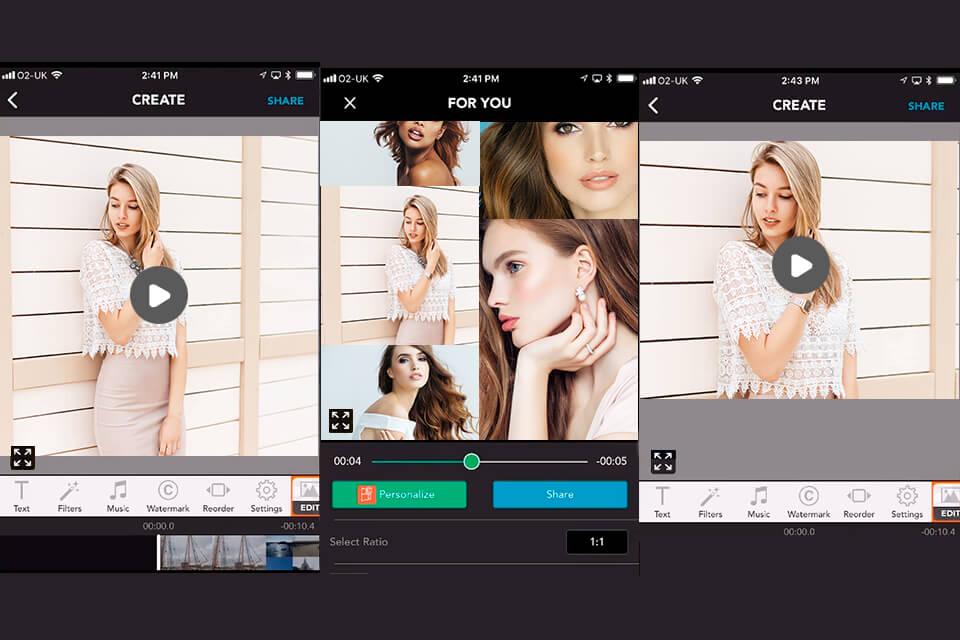 Pros:
Intuitive user interface.
The project can contain up to 9 clips, gifs, or images
High-resolution result
Impressive variety of effects
Cons:
Mandatory watermark, which fortunately can be changed
A small number of audio tracks
PicPlayPost offers dozens of features and allows you to place your images and clips in beautiful layouts. It works on both Android and Apple devices. The app includes GIF animations from Giphy and lets you add your text with custom fonts and animations.
The most impressive features, however, are found in the Pro version, which rivals the best free time-lapse software. There are 30-minute video projects, high-definition sharing, voice recording, and automatic slideshow creation that lets you choose just the content you want to include in the video.
You can purchase this app as part of a monthly subscription or as a one-time purchase. Since PicPlayPost has a lot of features, it may take you some time to master them. I recommend using the app on a tablet or large screen smartphone if you have one.
You can try out the professional version of this app for free for 14 days, and pay 6.99 USD for a monthly subscription or 47.99 USD for an annual subscription. Alternatively, a one-time purchase costs 99.99 USD.
2. SlideLab
The best app to make a photo slideshow for iOS.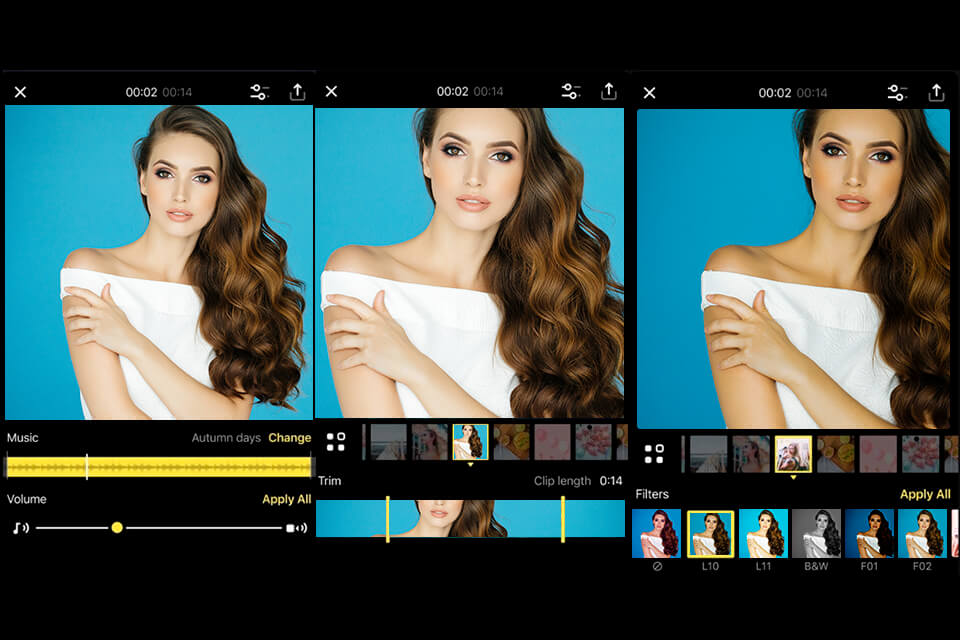 Benefits:
You can add your sound or music included in the app
Images can keep their original size
Can automatically adapt to Vine and Instagram
Impressive filters
Wide range of transitions
Images can be easily edited if needed
Cons:
Tracks in iTunes cannot be used when uploading the score to Facebook or Instagram
SlideLab is an app that allows you to create videos with photos created for square images, making it a good choice for Instagram photos. The photo editor is pretty impressive, offering all kinds of filters, transitions, and pre-loaded music, but most of them are only available in the paid version.
You can easily change the order of your photos once you load them. No need to crop the photos if you don't want to. Unlike most other apps, however, SlideLab only supports a square aspect ratio.
You can set the slideshow to display each photo for a maximum of 3 seconds. You can also upload your videos to Instagram, Facebook, or YouTube directly from the app.
This app has a paid professional version. Switching from the free to the paid version will cost you 4.99 USD. You also have the option to access transitions, traffic, and watermark removal separately for 1.99 USD each, making the Pro version a better deal.
Download this app for iOS
3. MoShow
The best photo slideshow app from Instagram.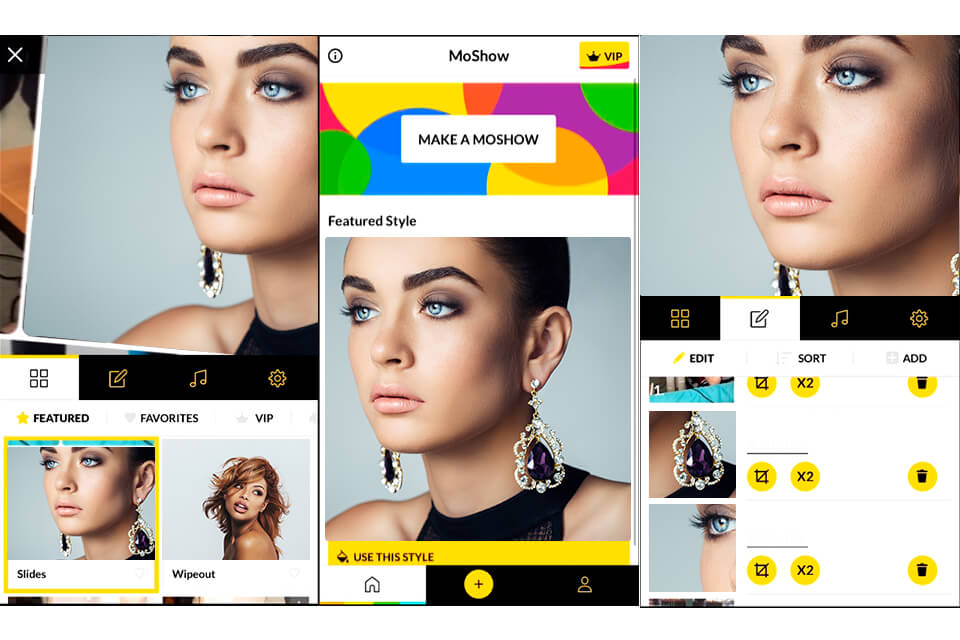 Pros:
User-friendly controls
An impressive collection of slideshow templates
Custom text, image order, cropping, and other features
Enhance slideshows with included free audio tracks
Available square templates are perfect for Instagram
Integrated with social networking platforms
Cons:
Portrait-oriented images cannot be edited to fill the frame template
Want to have the best app to make a photo slideshow to wow your Instagram followers? Want to be able to turn a set of photos into a captivating, colorful slideshow with cool music in the background? MoShow might be the app for you.
It's available for Android and iOS devices and is a versatile tool for creating Instagram slideshows thanks to its square video formatting. (It was also recently updated with a vertical aspect ratio option that's suitable for Instagram Stories.)
When using the free edition of MoShow, you can create videos as short as 30 seconds for square images and as long as 11 seconds for vertical photos, which can feel very limiting. It's hard to get the most out of this app without getting the Pro edition, which comes at a subscription price of USD 5.99 per month or an annual payment of USD 35.99.
Download this app for iOS and android
4. VivaVideo
the best app to make a photo slideshow for iOS and Android with special effects.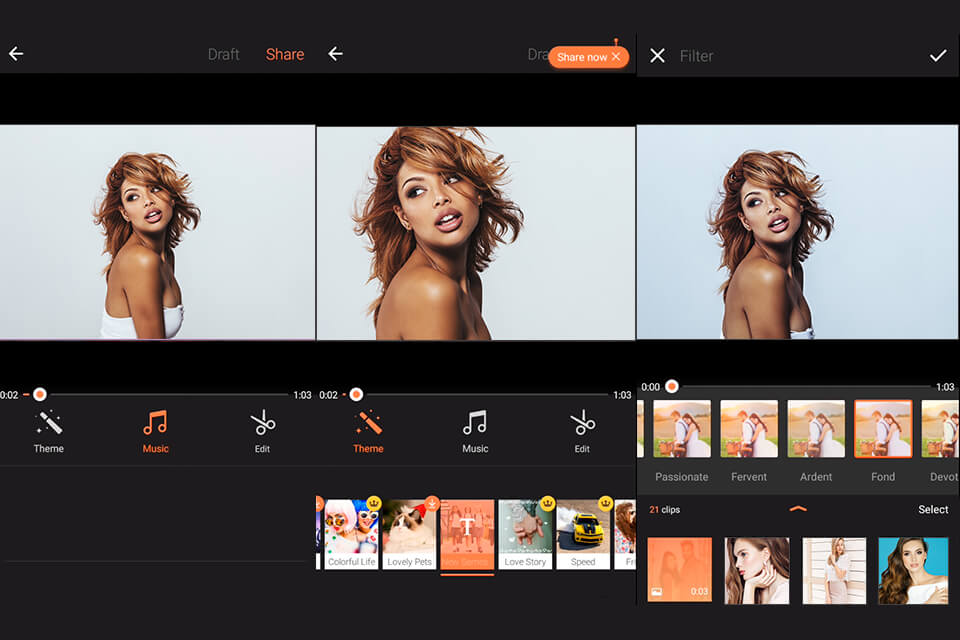 Pros:
A built-in camera that offers a real-time preview of effects and multiple video recording modes
Over 60 available effects and even more, are presented online
Themes that can make your videos even more beautiful
Combine clips and create montages thanks to the storyboard feature
You can edit footage within a slideshow
Integration with social networks
Cons:
Limitations that can only be removed by purchasing the paid version
VivaVideo is a great replacement for desktop photo album software optimized for iOS and Android devices. The basic version of this app is free to download and use. When editing, you can select "professional mode" for added flexibility and "quick mode" to access the faster and automated version.
The built-in camera allows for recording videos and applying over 60 special effects. You can add transitions, sound effects, and dub videos. If you close the app, your changes will be saved automatically, and with the storyboard feature, you can easily merge videos.
Unfortunately, the free version of the app contains intrusive watermarks on your videos, advertisements, and a limit on the length of footage you can capture to 5 minutes. To get rid of these restrictions, you need to purchase the professional version for USD 2.99. Or you can use watermark removal software to delete the sign.
Download this app for Android
5. iMovie
The best app to make a photo slideshow for professionals.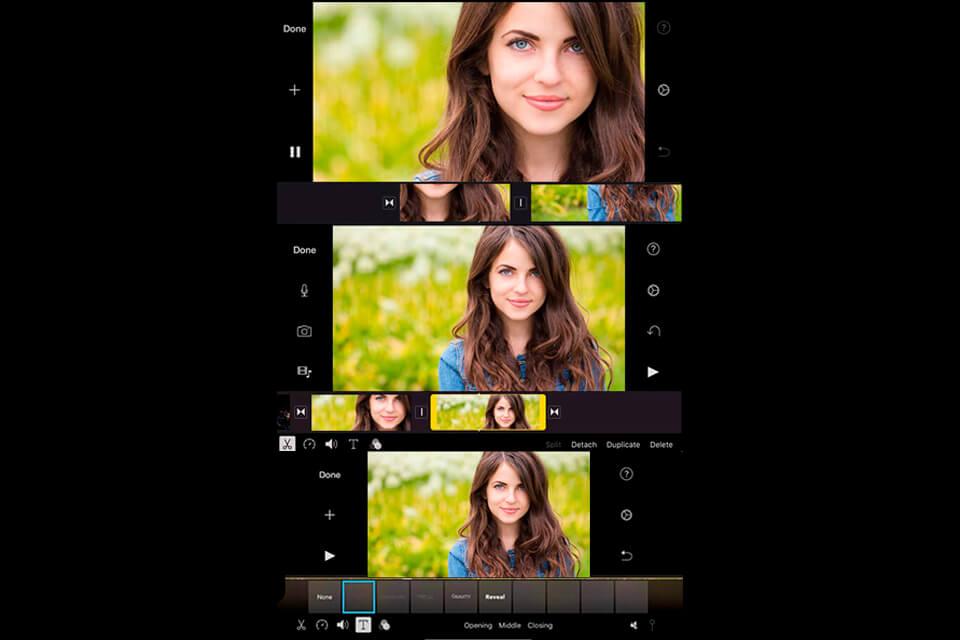 Pros:
Everything can be done with a single tap – tap, move and pause slides
Amazing transitions, audio effects, and titles
Can easily add VFX and background sounds
Cons:
Fairly limited functionality in some areas
Only compatible with Mac and iOS devices
Steep learning curve
iMovie is truly the Best App to Make a Photo Slideshow that can be used on an iPhone. Many users consider it the only real option for creating image slideshows and performing basic video editing.
It allows you to turn ordinary photos and videos saved on your computer into amazing slideshows. You can edit them using movie themes, transitions, titles, sound effects, and more. The app also lets you record videos and take photos to make editing slideshows easier.
The biggest advantage of this app is that it allows you to do everything with a single tap-tapping, panning, and tearing slides, making iMovie convenient and easy to use.
You can also edit each clip individually and easily change the audio track. It is possible to add background music and visual effects. If you want to upgrade from the free edition, the premium version is available for USD 59.95, but non-tech-savvy users will struggle with some advanced tools.
Download this app for iOS 
6. PicFlow
The best app to make a photo slideshow for beginners.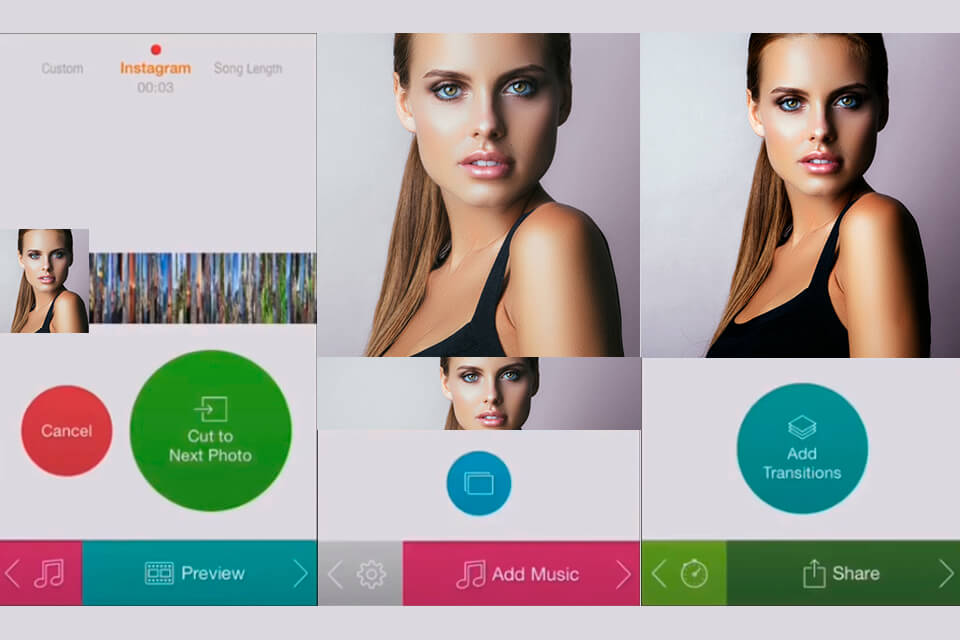 Pros:
Over 15 transitions
Can use audio from your iPod
Cropping is done by "swipe and drag".
Images can be dragged around
Timing photos is easy
Videos can be shared on Facebook and Instagram
Cons:
The free version has limitations
The result has a watermark
Don't want to delve into complex settings and features and look for the best app to make a photo slideshow for beginners? Then PicFlow is exactly the right app for you.
Even if you don't have any experience with creating slideshows, you can create one right away thanks to its simple interface. All you have to do is upload photos from your digital albums and breathe life into the video with a catchy tune.
Even though you don't get all the features found in other apps, you have a lot of control that is often missing in easy-to-use slideshow apps.
PetFlow allows you to set the time for each photo you upload and match it to the song you choose. This allows you to create eye-catching presentations and share them on Facebook or Instagram.
Download this app for Android
7. ReelDirector
The best app to make a photo slideshow for iOS with a large number of transitions.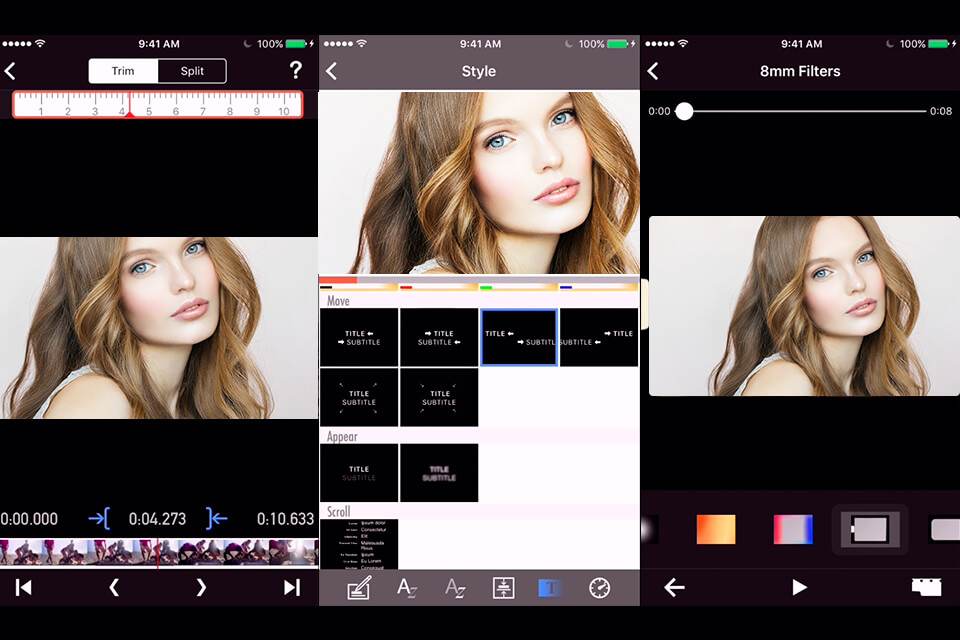 Pros:
Beginner-friendly tutorial
High-resolution presentations
Easy to use image editor
A wide variety of effects and transitions
Cons:
Users complain about glitches
Performance issues are possible on iPhones with a lower storage capacity
ReelDirector is a multifunctional app for creating slideshows with images and videos. It allows you to work with video footage in HD quality. You will be amazed at how much you can make out of your slideshows with this app.
It has simple tools to trim videos, change the size and angle of an image, and trendy styles to create titles. With the help of ReelDirector, you can cut and combine video clips, mix audio tracks, enlarge or reduce the frame, etc. This app includes about 30 transition effects.
8. Scoompa Video
Best photo slideshow app with customization features.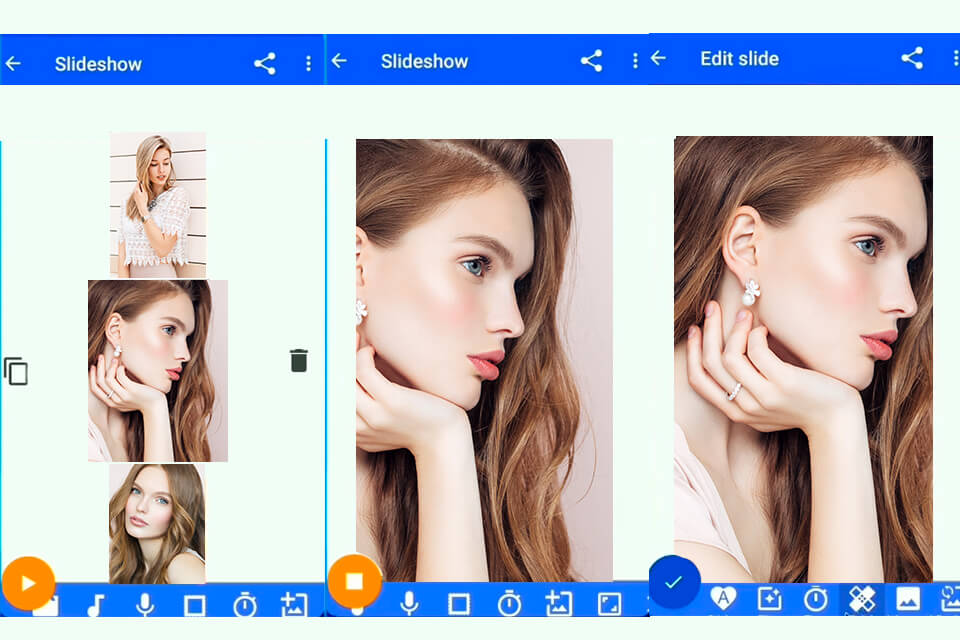 Pros:
Straightforward and beginner-friendly
Images can be uploaded from various sources
Has a live preview function
Cons:
Annoying ads in the free version
Bugs can occur when using the app
Scoompa Video is the best photo video app for Android with an intuitive interface and limited free features. It allows you to easily upload photos from your device or the web and offers impressive slideshow customization.
You can use over a hundred stickers and your music. All you need to control and navigate the app are simple gestures. The text tool is also well thought out and offers dozens of fonts.
If you still want to make changes after saving a slideshow, you can do that with this app. However, this feature is only available in the premium version. With the free version, you can only share up to 90 seconds of footage and have no save feature.
If you want to get rid of the watermark, you also need to purchase the paid version. In-app purchases cost between $0.99 and $11.99 depending on the item.
Download this app for Android
9. Photo FX Live Wallpaper
Best photo slideshow app for Android with a social media sharing feature.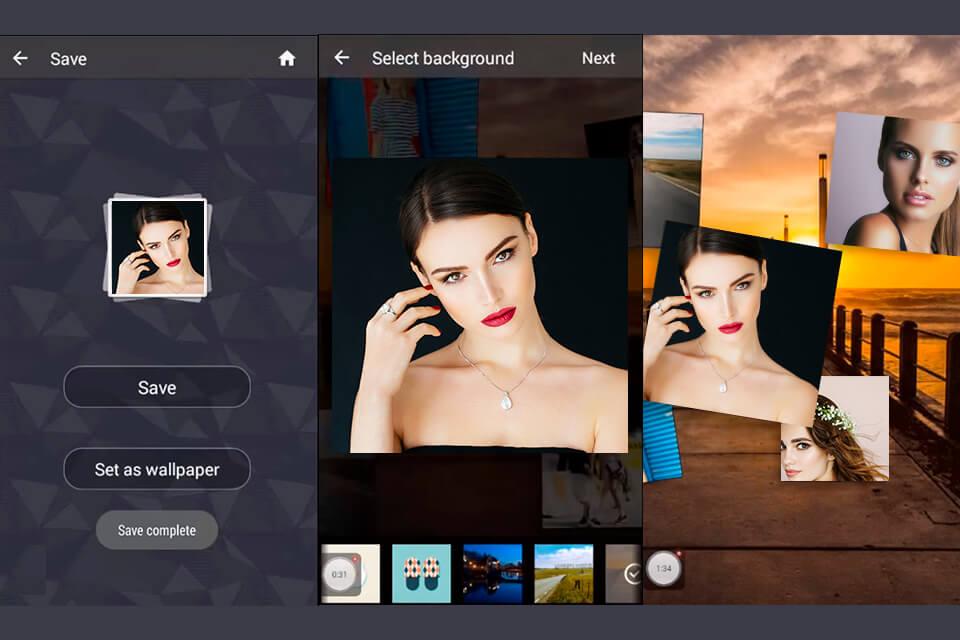 Pros:
Sharing on social networks
Many customization options
Excellent for background image design
Fantastic results
Cons:
You can't use the camera when the app is on
Errors can occur if you open too many files
Photos are not rotated automatically
Are you looking for a popular and versatile slideshow app? With more than 130,000 downloads, Photo FX Live Wallpaper is just what you need. It has an impressive number of features, including image upload, slideshow design for Android, smooth animations, and beginner-friendly color settings.
Photo FX Live Wallpaper plays your pictures as live wallpapers on Android gadgets. You need to set the opacity, interval, and other settings, choose the order of photos, or display them randomly.
The app requires Android 2.2 or a newer version. It is available for free, but it contains pop-up ads. You can remove them by purchasing the paid Pro or Camera FX version.
Download this app for Android
10. Pixgram
The best app to make a photo slideshow for vloggers.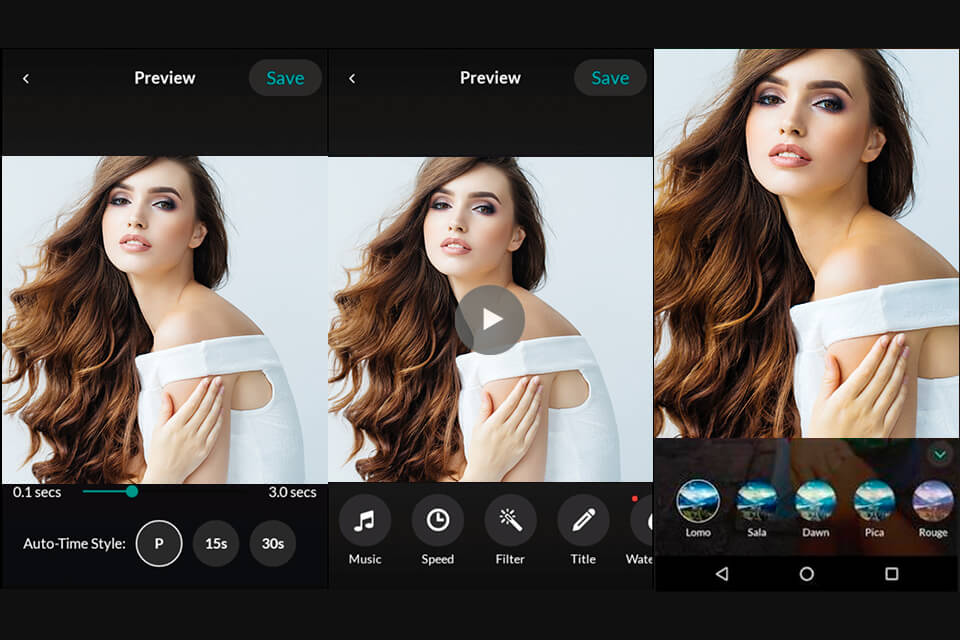 Pros:
Intuitive and convenient user interface
Offers basic video editing features
Slideshows can be saved in different aspect ratios (1:1, 16:9, 9:16)
Easy sharing on Facebook, Instagram, Twitter, and other social media.
Cons:
Annoying pop-up ads
Nothing interesting for experienced editors
Pigram is probably the best app to make a photo slideshow with music for Android users who only need basic editing features. It is available for free on Google Play. The app allows you to combine clips and images to create a fantastic slideshow in minutes.
With this app, you can easily create slideshows with your favorite music. Using Pixgram is very simple. To create a slideshow, you just need to follow three steps: select a video, choose the sound effects and create the show.
You can then share the slideshow with your friends online via YouTube and Facebook. This application offers you the convenience of editing a slideshow with video clips and photos in one place.
Download this app for Android
11. Photo Slideshow & Video Maker
The best app to make a photo slideshow with the coolest effects.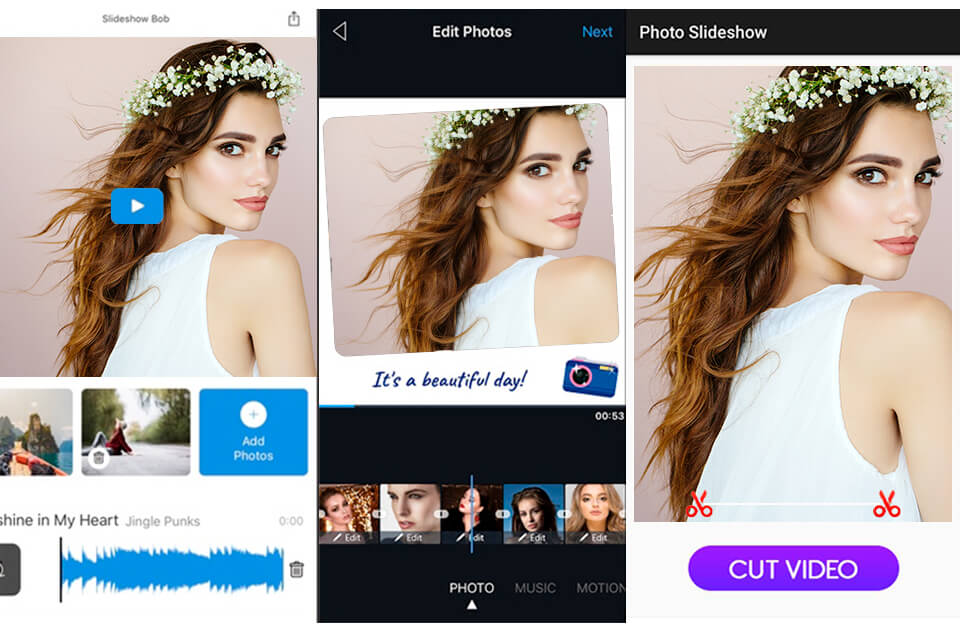 Pros:
Can upload images from multiple folders
Produces fantastic slideshows
Stunning photo effects
Basic video editing features
Cons:
Videos are difficult to share after they are recorded.
Image quality may vary depending on the level chosen.
In your search for the best app to make a photo slideshow, you should seriously consider this option. It is a simple application for people who want to create slideshows with minimal effort. It offers a comfortable user interface and advanced features that make it easy to create a beautiful slideshow.
The app has a nice selection of photo effects, filters, frames, and diamond management tools.
Apart from the basic features already mentioned, Photo Slideshow & Video Maker has a cropping feature that ensures your photos look as good as possible. With the number of effects available, you can create great slideshows and easily post them on Instagram and Vine.
12. photo slideshow director
Best photo slideshow app for HD videos.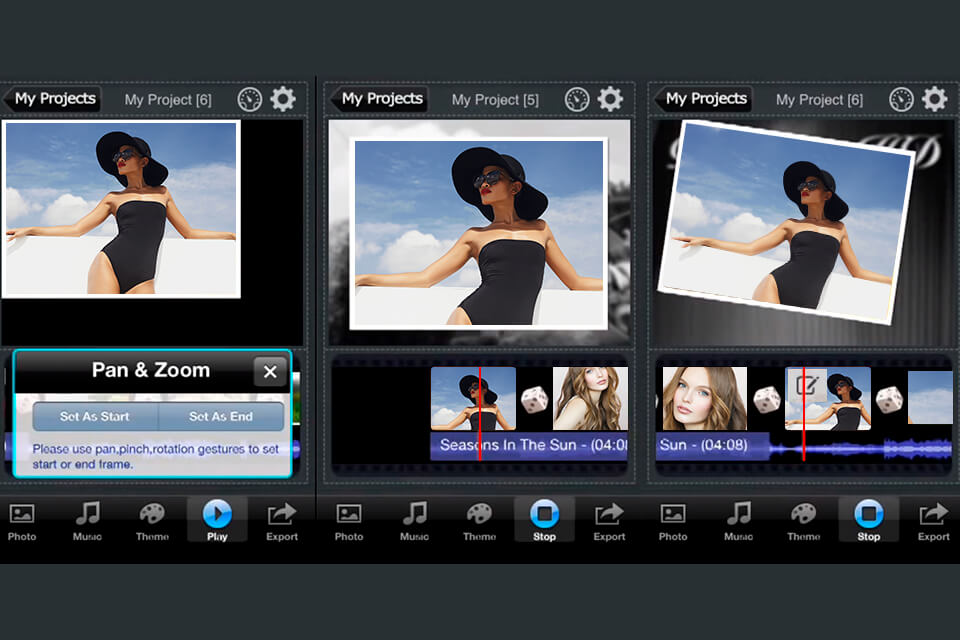 Pros:
Intuitive user interface
Slideshows can be recorded in HD
Can produce music videos
Cons:
Contextual advertising
Possible crashes
The number of people who know about Photo Slideshow Director is disappointing, as the range of features it offers allows me to consider it the best slideshow app for iPad. Designed for iOS devices, this app allows you to use your device as a platform to create slideshows from the photos on the phone.
The collection of effects offered is amazing, you can even save the results in HD. If you add to that the sharing function on social networks, you have in your hand impressive software.
Unfortunately, some reviews mention potential problems, but these only affect a small portion of users. Although the application can't be downloaded for free, $3.99 isn't exactly a high barrier to entry.
Download this app for iOS
13. Google Photos
Among the many features of Google Photos is the ability to create a simple slideshow. The application has easy-to-use editing functions, so it won't take you long to master them and create a decent slideshow.
This application for beginners is designed to make it easier to upload and search photos. It allows you to add photos, videos, and music to entire slideshows. You can choose music from the app's many themes or add your own.
To create a slideshow, sort the photos into an album in the order you want and then create an MP4 video. You can also set how long each photo stays on the screen, rearrange them, and add more photos.
Download: Google Photos for Android | iOS (free)
14. Movavi Clips
Movavi Clips is an advanced video editor that allows you to create great slideshows with music. The app allows you to enhance your slideshows with transitions, unique color filters, and themed stickers.
Although the app has a user-friendly interface, some users find it difficult to use some of its tools. The movie maker app has tools that allow you to edit photos, videos, and even slideshows. You can use these tools to crop photos, digitally makeup, retouch and merge multiple slideshows into one.
To quickly create a slideshow, upload your photo or video from your device's gallery. Then crop the unwanted parts, apply effects and choose the background music you want.
Movavi Clips lets you select a song from its list of royalty-free music and sounds. It also gives you the option to select songs from your device's memory and even mute the original sound. You can also add custom captions, adjust the aspect ratio of the output video, and export videos in HD quality.
Download: Movavi Clips for Android | iOS (free, in-app purchases possible).
15. Pic Music – Slide show Maker
Pic Music – Slide show Maker allows you to combine your photos, videos, and background music to create your unique slide shows in minutes.
The application is very entertaining and easy to create video slideshows. First, select the photos and/or videos you want, then the app will automatically create a slideshow for you. After that, you can export or edit your slideshow using the tools below:
VIDEO TIMELINE – SLIDE MANAGEMENT.
– This timeline shows a list of slides connected by transition icons.
– Tap on each slide to get more options, such as editing/deleting the slide or inserting one or more photos/videos/titles right before or after the selected slide.
– Tap a transition icon in the middle of two slides to change the transition type.
– Rearrange slides: Tap and hold on a slide to switch to reorder mode, and then long press and drag the slider to change its order.
SLIDE EDITOR
– You can set the duration of each photo slide, crop video slides, and change the playback speed to 0.5x, 1x, 2x, 4x.
– Control start and end animations by scaling/positioning the image with two fingers
AUDIO TIMELINE – ADD AND TRIM MUSIC
– Switch to the Audio tab, then tap the plus icon to add an audio item.
– Find and select background music, download a song from your iTunes library, or record your voice.
– There is a slider to change the volume of the audio.
– Cut the song: Select the audio waveform to display its left and right handles, and move those handles to cut the beginning or end of the song.
– Set when to play an audio item in the slideshow: Long-press the audio item and drag it to where you want it to play.
TEXT TIMELINE – ADD TEXT TO VIDEOS
– Switch to the Text tab and then tap the plus icon to add new text.
– Change font, color, styles (background color, borders), and animations.
– Text items in the Timeline can be managed in the same way as audio items in the Audio Timeline, that is, you can change the duration of the text when it starts to appear in the slideshow.
SAVE AND SHARE
– The slideshow can be exported in high resolution and at up to 60 FPS.
– Your work can be saved as a project to be edited later.
– The slideshow also supports many formats: 1:1, 16:9, 9:16, 4:3, and 3:4.
PIC MUSIC PRO
Pic Music Pro offers three subscription options:
$3.99 weekly
$99 monthly
$299 yearly
Pricing may vary by location.
If you choose to upgrade to a Pro subscription, your iTunes account will be charged for the payment upon confirmation of purchase. Your subscription will automatically renew unless you turn off auto-renew at least 24 hours before the current term expires. Your account will be charged for renewal within 24 hours before the current term expires.
You can cancel auto-renewal and manage your subscription by selecting "Manage App Subscriptions" in your iTunes account settings and selecting the subscription you wish to change. Any unused portion of the free trial period, if offered, will expire when you purchase a Pro subscription, if applicable.
16. SlidePlus: Free Photo Slideshow Maker
SlidePlus is one of the best photo and video slideshow makers with music.
SlidePlus focuses on creating and editing photo and video slideshows. This free and easy-to-use slideshow maker helps you create videos from photos and songs in a few easy steps. Turn your photos and video clips into cool slideshow videos with music, effects, and transitions (Photo Video/Mini Movie)!
With SlidePlus photo slideshow maker, you don't need formal video editing skills to create great videos. Just select images or clips from your phone, choose the music and theme you want from SlidePlus, and we'll do the rest.
With over 100 sophisticated slideshow themes to choose from, you can easily create a great video slideshow with music to celebrate any occasion: birthdays, weddings, business events, etc.
You can also share your videos on Instagram and Facebook…… and share your video stories with your friends.
How to use SlidePlus?
It's easy.
1: Select photos/videos from your phone.
2: Choose the theme you like from SlidePlus.
3: Add text or change the music to your liking.
That's it! Now save your SlidePlus video on your phone or share it on Instagram, Facebook, Snapchat, Whatsapp……
KEY FEATURES:
Create videos from images and songs.
SlidePlus photo slideshow maker always takes convenience as the top priority in creating slideshow videos. SlidePlus themes already have all the transitions and effects built-in, so all you have to do is add the media. You select photos/short clips, choose your favorite theme, images and song, and you have what used to take hours to create.
Over 100 themes to choose from
Each SlidePlus photo slideshow maker theme has been designed by our wonderful designers to make your video (photo slideshow) look professional. We have over 100+ themes for you to choose from, which include all occasions from weddings, baby steps, new year, celebrations, vacations, anniversaries, travel, pets, business occasions, and much more. We also create regularly updated themes or special editions to meet individual video production needs. There are always new themes to try.
Extensive background music list
SlidePlus is a slideshow creator with a wide selection of background music, so you can always find the right one when creating a video presentation. You can also add music to videos from your phone.
Intelligent portrait photo cropping
Based on the accurate face recognition algorithm, SlidePlus can intelligently and automatically crop your photos and images to ensure your bright smile is shown in the slideshow videos/films.
SlidePlus Photo Slideshow Maker provides short video editing tools to meet your additional needs. You can import your videos and even mute the original sound of the video clip so that the video blends perfectly with the background music of your choice.
Save and share videos anytime
Save your slideshow videos to your phone and share your slideshow videos on Instagram, Facebook, Twitter, Tumblr, Snapchat, Vine, Whatsapp, Facebook Messenger, Line, email, etc. and have fun with your friends and family.
Supports Instagram and Facebook albums
Log in with your Facebook or Instagram account and edit your photos and videos directly from your Facebook or Instagram album.
SlidePlus is a photo slideshow maker with music, but our in-app purchases offer more custom features, such as specially crafted themes/HD video export, to give SlidePlus users a better video storytelling experience.
#About Subscription
– Subscriptions are billed monthly or annually at the rate selected based on your subscription plan.
– Your subscription will automatically renew unless you turn off auto-renewal at least 24 hours before the end of the current period.
– The renewal will be charged to your account within 24 hours before the end of the current period.
17. SlideShow Photo to Video Maker
"Create slideshows with SlideShow Movie Maker using your photos and videos from your camera roll and add your music!
Create your slideshow with just a few taps and choose from a large collection of atmospheres – from adventure to vintage, birthday or family, find your style!
Add photos, videos, and music to your movie and share it with friends and family.
Creating a slideshow with SlideShow Movie Maker is fast:
Select your photos and videos.
Choose moods, filters, and transitions
Choose your favorite music from our gallery or your songs and recordings
Choose the length and ratio of your slideshow and trim your videos.
Complete your slideshow with text and stickers
Save it to your camera roll and share it on Facebook, Instagram, or Youtube.
SUBSCRIPTION INFORMATION:
-subscription period: weekly
Your payment will be charged to your iTunes account as soon as you confirm your purchase.
-You can manage your subscriptions and disable auto-renewal after purchase in your account settings.
-Your subscription will automatically renew unless you disable auto-renewal at least 24 hours before the end of the current term.
-The renewal fee will be charged to your account within 24 hours before the end of the current period.
-If you cancel a subscription, your subscription will remain active until the end of the period. Auto-renewal will be disabled, but your current subscription will not be refunded.
-Unused portion of a free trial period, if offered, will be forfeited when you purchase a subscription.
18. videoshop – video editor
"FEATURES
1. trim: Cut out all unwanted moments.
2. music: Add music from your library or Videoshop library.
3. sound effects: Choose from animal sounds, farts, explosions, laughter, etc.
4. slow motion (or fast motion): Set the video speed to slow or fast.
5. adjust display: Change brightness, contrast, saturation, etc.
6. merge: Combine several clips into one.
7. text: Enter your text with different colors and fonts.
8. voice recording: Record your voice for the video.
Animated titles: Introduce your videos with animated titles.
10. Filter: Choose from several inspiring filters to enhance your videos.
11. transitions: choose from 4 transitions to animate between video clips.
12. photos: create slideshows with ease.
13. stop motion: create Vine videos with stop motion footage.
Resize: resize your video within the frame of the video. 15.
15. Rewind: Play videos in reverse.
16. copy: duplicate video clips.
17. High-resolution video.
18. Share them on your favorite social media channels or email them.
Note: Adding a huge amount of content and effects can overwhelm the processing power of your phone, so be humble!
See more: private photo sharing app for family