Best Fighting Games on iOS – Arcades popularized "fighting games" in the early 1970s, marking the beginning of the genre. Arcades may have fallen out of favor, but fighting games have only become better with time. Furthermore, modern combat games are significantly more intricate and fascinating. Accordingly, I've compiled a list of the top iPhone fighting games.
Best Fighting Games on iOS (iPhone and iPad)
1. The Beat Street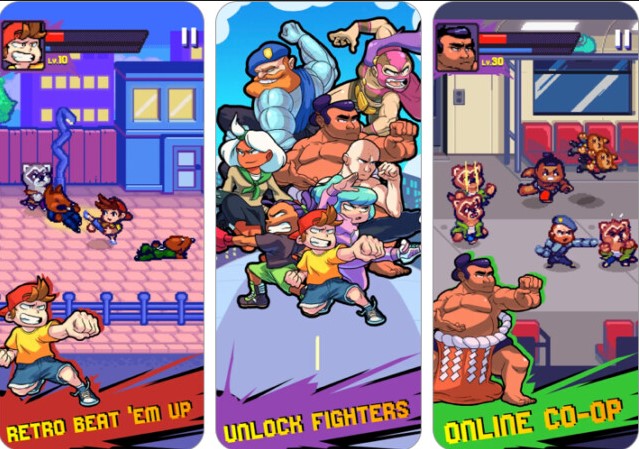 Beat Street is an homage to the pixelated fighter games of yesteryear that we enjoyed on the Nintendo 64 or at arcades. It has everything you need for a lighthearted, casual, and competitive fighting game experience.
Beat Street stands out from the others since it just needs one hand to play. To direct your character, you simply use your thumb to tap the screen in the desired manner. As your character draws close to an opponent, you may tap the screen to witness a barrage of punches, kicks, and grapples erupt from them.
After your opponent has taken enough damage, you can kill them off with a super move. While this may seem straightforward, the designers have taken care to ensure that it never grows tiresome.
No on-screen buttons are displayed for character control. The result is a more compelling and realistic game experience.
The software itself is free, but additional content costs $1.99.
2. Real Boxing, Part 2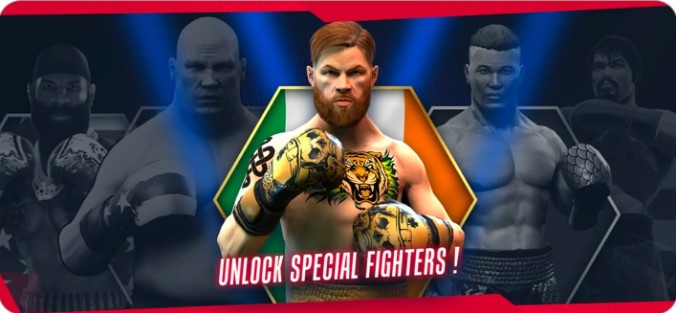 Real Boxing 2 succeeds in two key areas. First off, it's an exciting sports game; there isn't a better iPhone boxing game out there. For another, it's an excellent fighting game.
You get to construct your boxer in this game and compete to become the best in the virtual world. Do you long to be the best boxer in the world? With Real Boxing 2, you can finally punch like a champion.
Playing against other people online is a lot of fun once you've got your character all geared up and have racked up a ton of experience points. Furthermore, events and challenges are often refreshed, resulting in updated scores and active leaderboards.
You'll need to master a wide range of moves, from uppercuts and dodges to side hooks and special skills if you want any chance of survival against the most formidable opponents.
Want to feel like your character is being cheered on by a sea of screaming fans? Thankfully, Real Boxing 2 provides this experience with its authentic gameplay, visuals, and atmosphere. This game is perfect for you if you enjoy battle simulations.
The software itself is free, but additional content costs $1.99.
3. Brawlhalla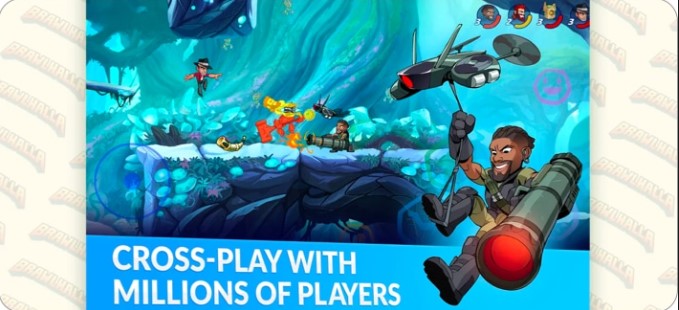 Brawlhalla is a combat game with some platforming elements thrown in for good measure. When compared to previous fighting games, this adds a fresh dimension to the action.
There are also fifty or more playable characters and twenty or more game types. Brawlhalla's support for play across platforms is also crucial. That's correct; it doesn't matter what system the other player is using, you may play this game with them from anywhere in the globe.
You may form alliances with other players or dive headfirst into the mayhem of Brawlball and Kung-Fu modes.
It's no wonder that this game has received such positive reviews on the App Store given how much material it offers. More than 40 million people currently use it. If you're looking for a change of pace from the standard fighting game, Brawlhalla is a good option.
Costs are free to download (in-app purchases begin at $5.99).
4. Gods of Olympus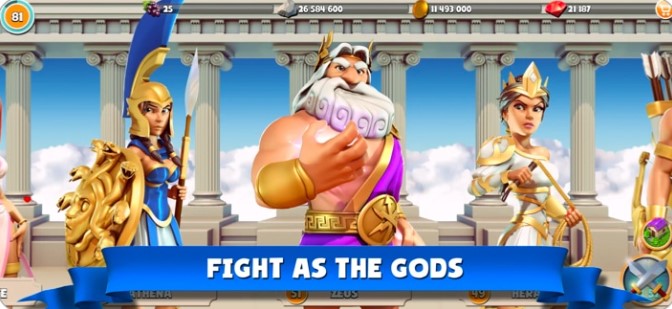 Everybody here has some experience with RTS games. Combat can be overshadowed at times by the game's strategic components. Generally speaking, fighting in such settings is dull and too basic. The film Gods of Olympus is here to rectify this, thank goodness.
The focus of the game is on strategic play. The creators, however, have reworked the fighting system into a new and exciting format. Zeus, Athena, Hades, and Hera are just a few of the many Greek gods you may command (among others).
You'll have to maneuver your way through the fights, which take place in real-time. While battles inside the game might be nasty, you'll need to plan. The game is well-balanced because the talents of one Greek deity can be neutralized by the abilities of another.
But other than that, Ancient Greece is yours to dominate. This alone should be motivation enough for all of your history and mythology buffs to check out the game.
The software itself is free, but additional content costs $1.99.
5. Galaxy of Heroes, from Star Wars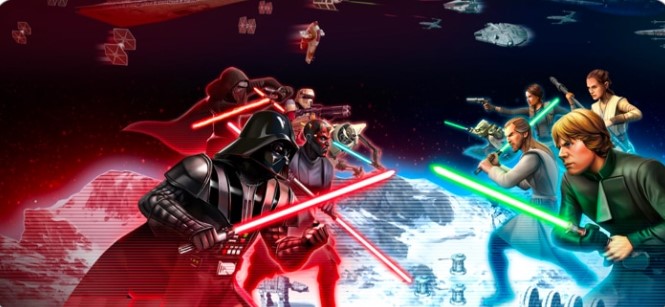 The Star Wars video game series has a history of positive reception. But the vast majority of those were games for consoles. Many Star Wars fans have voiced their desire for a high-quality mobile game based on the franchise. To this end, Star Wars: Galaxy of Heroes more than satisfies.
Heroes and villains from nearly every era of the Star Wars story are represented in the game. Create your squad by combining heroes and villains from The Mandalorian and Star Wars: The Last Jedi. In Star Wars, there are infinite ways to put together your perfect crew.
Turn-based strategic gameplay is featured in this software, with light role-playing game components for good measure. As you go through the game and earn more awards and experience points, you'll be able to use them to further personalize and enhance the powers of the characters on your squad.
The game's MMORPG aspects are substantial enough for enthusiasts of the genre, and it requires careful consideration of your opponent's strengths and weaknesses while selecting a team. Jumping into a game without any prior knowledge is a surefire recipe for failure.
There are other activities, such as collecting objects iconic to the series and joining Guilds with other colleagues to develop your network.
Costs free to download (in-app purchases begin at $1.99)
6. Marvel's Contest of Champions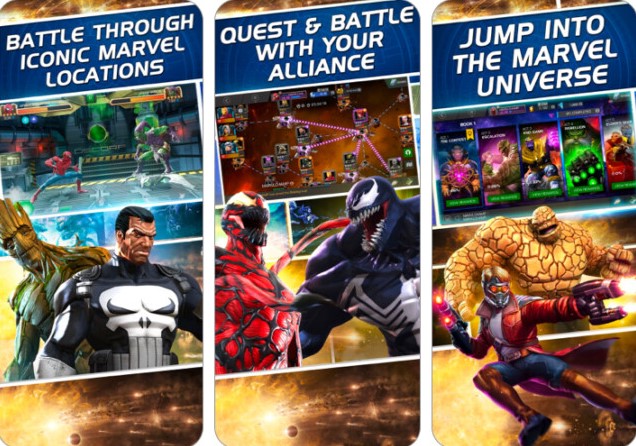 It makes sense to use these characters in a video game to attract a wider audience as the Marvel Cinematic Universe continues to expand. Taking inspiration from Mortal Kombat, the Marvel Contest of Champions pits our favorite heroes against one another.
The only way to get access to additional heroes in either the single-player or multiplayer modes is to continue engaging in battle. As you progress through the ranks and accumulate victories, you will be rewarded with crystals. Whether or not the crystal can be used to unlock a character is completely random. This is a major issue that I have with the game.
The fighting is enjoyable despite this. This version of the game, optimized for touchscreens, may appear simple at first, but it quickly becomes addicting. While most characters share a similar feel to their gameplay, the game's trial-and-error approach to combat will keep you captivated.
No local multiplayer is available in the Marvel Contest of Champions. Regardless, you may test out several identities and play against players from all around the world to see who you like most.
Marvel Contest of Champions is a must-have for any Marvel Cinematic Universe enthusiast.
Pricing is 0 (in-app purchases begin at $4.99).
7. Mortal Kombat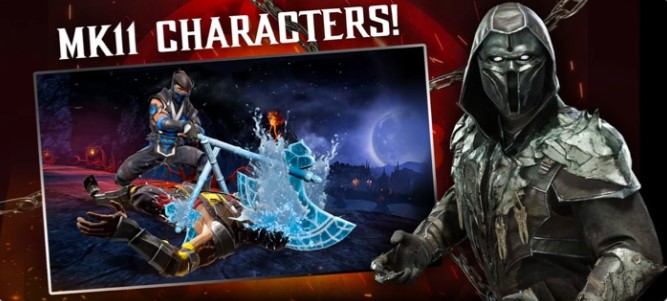 Regarding fighting games, there haven't been many that measure up to Mortal Kombat's standards. When it was released in 1992, its adult setting and visuals were a breath of fresh air in the game industry. The series is still going strong over 30 years after it first debuted. It's finally available for iOS devices, bringing realistic fighting to your iPhone or iPad.
The game features over 130 characters from pop culture canon, including Scorpion, Sub-Zero, Johnny Cage, and Sonya. The combat skills and strategies of each character are distinctive. So, you may play about until you find the personality that you enjoy the best.
In three-on-three battles, you may use your wits against other players by forming teams of seemingly incompatible characters whose abilities and play styles will complement one another. You may acquire special items for your faction's soldiers by completing weekly tasks in what are called Faction Wars.
Your characters can participate in both single-player and multiplayer activities, as well as Quests. Places as disparate as the Outworld and the NetherRealm feature in these quests. As you complete more Quests, you will unlock better prizes. The original Mortal Kombat game is a must-own classic.
The software itself is free, but additional content costs $1.99.
8. Shadow Fight: Part 3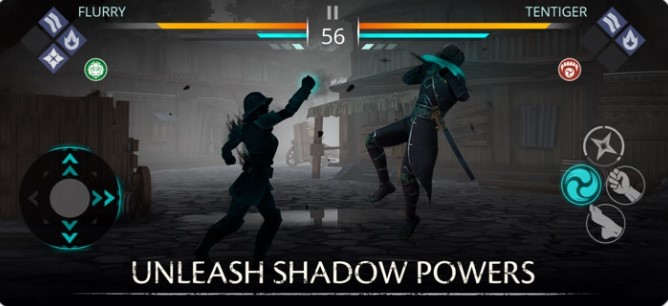 I couldn't make a complete list of iPhone combat games without including Shadow Fight 3, so here it is. For years, the Shadow Fight series has been one of the most popular mobile games, and the latest installment only further solidifies the series' position as a classic.
There is a campaign mode where you may build up your character from scratch. As you continue on your perilous journey, you arm yourself to take on the most formidable enemies.
Two bars should be monitored. The first bar represents your health, which you must protect at all costs. When your character lands successful blows, the shadow bar will fill up. When the shadow gauge is full, you can unleash a devastating attack on your foe.
All the gear you find along the way has unique statistics and may be used to improve your overall performance. This adds a role-playing dimension to the game, as you get to choose whether your character is a speedy, aggressive fighter or a defensive specialist who relies on great counterattacks.
The formula introduced in the first two games of the series has been fine-tuned in Shadow Fight 3, making it the best game in the series yet.
The program itself is free, but additional content may be purchased for as little as $2.99.
9. Unjust: Gods Among Us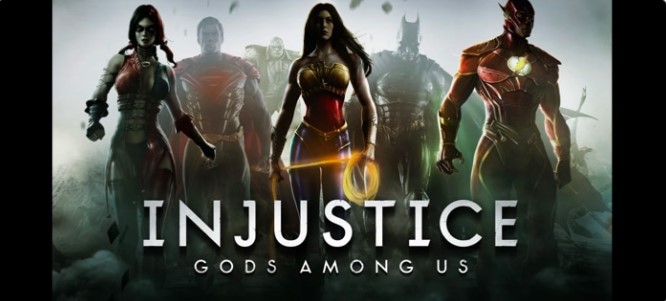 When did you first hear that DC Comics' most popular characters would star in their Mortal Kombat-style brawler? To be honest, I didn't know that either. Thankfully, Injustice: Gods Among Us has some of the best mobile fighting systems available.
With this game, you get to find out what would happen if Superman turned out to be the bad guy. As a succession of odd alliances forms to bring down the opposing groups, it becomes more difficult to tell good guys from bad guys.
The three-dimensional people you command exist within a two-dimensional world, creating a striking visual approach for the game. Whether a hero or a villain, each figure is drawn with stunning detail and a unique design. Furthermore, everyone has their own special set of skills, talents, and finishing techniques in battle.
The single-player story and online multiplayer are both fantastic. Gear that grants bonuses to particular qualities and stats is unlocked as you progress through the game's many modes.
If you're a lover of DC comics and movies, you'll love this comprehensive fighting game. In my opinion, it's a must-have!
The software itself is free, but additional content costs $1.99.
10. Street Fighter IV: Complete Edition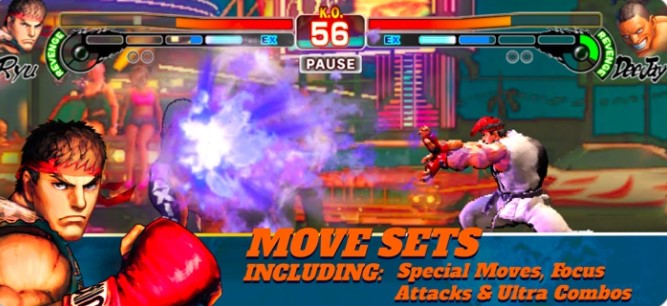 The Street Fighter franchise dates back to the early days of video arcades. Both this and the Mortal Kombat series have paved the way for the current crop of top-tier fighting games.
There are more than 30 classic characters to choose from in the free Street Fighter game for iPhone. There is now greater leeway in the combat scenes thanks to the improved gameplay. The creators have included all the positive aspects of console games into portable versions, making for the most enjoyable experience imaginable.
There's a classic-style arcade mode for solo players. When playing in Multiplayer mode, players may take on rivals from all across the globe. When paired with a high-quality MFi controller, this makes for battles that are as much fun as any in a console game.
The game offers four distinct degrees of difficulty so you may test your mettle against the world. Gain supreme bragging rights by completing the game on the hardest setting possible.
I think it's one of the finest fighting games on iPhones right now, and it's great for both newcomers and veterans of the series.
Price: $4.99
Get set, go!
I've compiled a shortlist of my favorite iOS fighting games. The vast majority of these titles are freemium games, meaning you may give them a go before committing to them financially. Is there a fighting game that I'm missing out on? Put them in the discussion!
For more, go here: