Best racing ios games – I've always enjoyed automobile racing and have spent many hours playing various racing simulations on my computer. Although there are now many excellent racing games for mobile devices, this wasn't the case a few years ago. Good news: your phone probably has a slew of racing games to choose from. Here are my favorite racing games on the iPhone, ranging from simulations to arcade-style games.
Best racing iOS games for iPhone and iPad in 2022
1. Real Racing 3 – the choice of the editors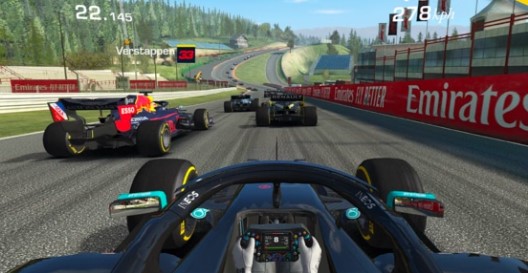 There's a reason why Real Racing 3 is one of the best-selling racing games on the App Store. After its first release, it has undergone continuous improvement to ensure that gamers get the greatest possible experience.
Forty unique courses from 19 different countries may be found in the game. Also, you may pick from a selection of 250 authentic automobiles. In this category, you'll find names like Porsche, Bugatti, Audi, and many others.
The gameplay and visuals are so well-polished that you need a high-quality gaming controller to get the most out of it. In addition, it will provide you with an increased agency in your pursuit of victory.
Players of various skill levels may enjoy the racing simulation included in Real Racing 3.
Free to download (in-app purchases begin at $1.99)
2. Asphalt 9: Legends – The best arcade racing game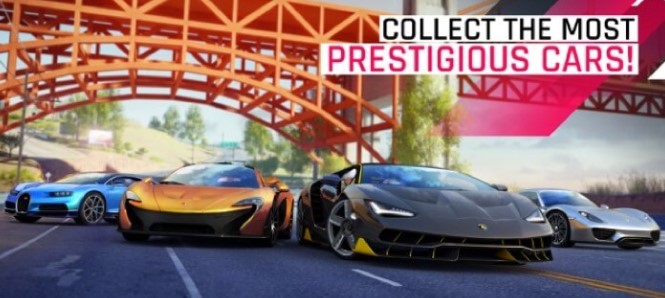 When it comes to iPhone arcade racing games, the Asphalt series has long been in the lead. Finally, the franchise has a game that lives up to its name, and Asphalt 9: Legends does just that.
Multiple hypercars from recognizable brands like Lamborghini and Ferrari are available in the game. Actual, but somewhat altered, places are used. You'll need to pull off an astonishing number of tricks to beat the world's top arcade racers.
Get your heart racing by jumping over a gorge that's 80 meters wide or using a tornado as a springboard for a swing. When it comes to racing games, none can compare to the anarchy and fun of Asphalt 9: Legends.
Free to download (in-app purchases begin at $1.99)
3. CSR2: The most realistic car racing game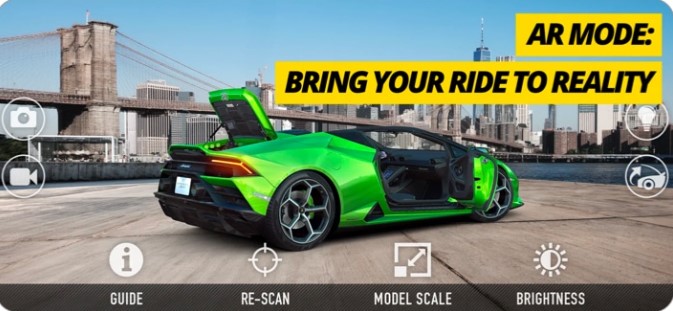 Upon its debut, CSR2 received a lot of accolades, especially for its visuals. Numerous changes to the gameplay since then have made it one of the most realistic racing simulations available for portable devices.
You may get your hands on some of the greatest automobiles ever made from the 1960s up to the 1990s. Feel free to amass and alter them as much as your heart desires. The "Legends workshop" feature of the game allows you to bring these vintage vehicles back to their former glory.
Every aspect of the gameplay experience is modifiable. You may customize a variety of aspects of the game, such as the gear ratios and tire pressure, to fit your preferred playstyle. To add insult to injury, online races are quite cutthroat, so you'll need to play around with different settings to find your sweet spot.
In search of a state-of-the-art racing simulation? Start up CSR2 now.
Free to download (in-app purchases begin at $1.99)
4. F1 Mobile Racing – For Formula One fans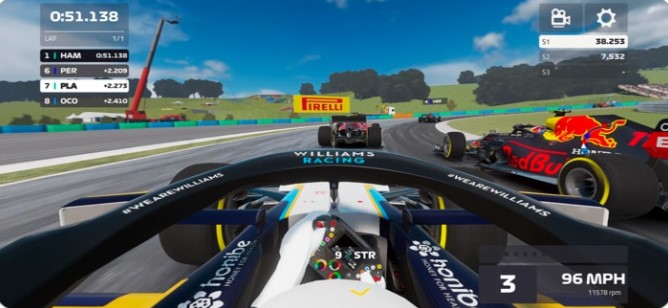 In case you were unaware, the console F1 racing games are quite well-made. Thankfully, the mobile version of F1 Mobile Racing maintains the same high quality as the desktop version.
In addition to the eye-popping aesthetics, you may customize every aspect of your Formula One vehicle. Compete with elite drivers like Lewis Hamilton and Fernando Alonso to reach the summit.
Take part in races to earn strong equipment, then tweak your vehicle for different tracks and weather conditions. Once you've mastered the controls, you may challenge other players online for a position on the game's high scores.
You can now take your iPhone racing experience to the next level with this game.
Free to download (in-app purchases begin at $0.99)
5. Riptide GP: Renegade, the Top-Rated Offline Racing Game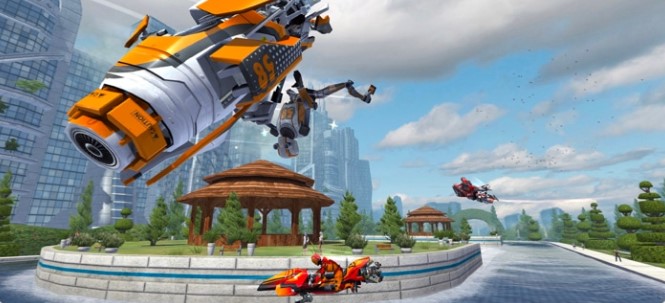 Riptide GP: Renegade isn't your ordinary racing game. It lacks photorealistic vehicles and international racetracks. As an alternative, you compete against other players in this arena while piloting a hydro-powered jet.
If you're seeking a new kind of arcade racing game, try this one. In the single-player mode, you will find yourself excluded from the Riptide GP league and forced to gain notoriety through shady competition. This makes the game feel like Need for Speed: Most Wanted. You can't go underground to avoid the police; instead, you have to use the rivers.
Gain access to a plethora of extras by completing the game's single-player mode. More daring stunts at dizzying speeds are possible with a more capable jet. The courses' location on the water, rather than the road, allows for greater variety and originality in gameplay.
For the pinnacle of aquatic competition, you may even play the game online with up to seven other people.
Price: $2.99
6. Mario Kart Tour: A fun racing game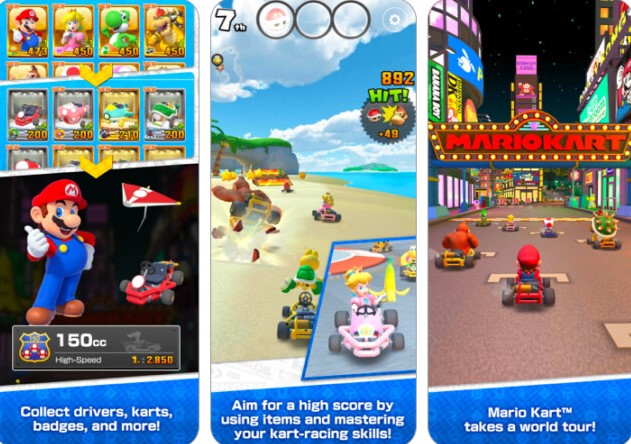 Download Mario Kart Tour even if you're interested in more realistic racing games. Though it may not be your traditional racing game with real-world vehicles, there is a good reason why this app is so popular.
For a long time now, Mario Kart has served as a great party game. Nonetheless, not everyone uses a Nintendo system. Mobile Mario Kart Tour is a great alternative when you can't play the console version.
The racing principles are unchanged, and new courses based on cities across the world join the original Mario Kart courses. Each of these tracks rotates every two weeks, so there's always something fresh to see.
Even if you like more realistic racing games, Mario Kart Tour is still a lot of fun.
Free to download (in-app purchases begin at $1.99)
7. GT. Racing 2 – The best racing experience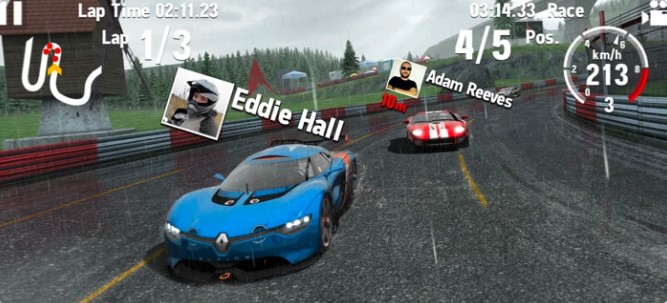 GT. Racing 2 is our next installment in the series of racing simulators. There has never been a more polished racing simulator than this one.
It's everything you might want in a portable game, from realistic automotive damage simulation to extensive options for personalization. There are a lot of features, including more than 70 authentic licensed vehicles, 13 authentic locations, and around 1,400 racing events.
Playing with others online allows you to either race against them or team up with them to complete challenges and earn rewards. The game is friendly to newcomers, and also provides advanced settings for seasoned racers.
GT. Racing 2 is one of the few racing games that can compete with the real thing.
Free to download (in-app purchases begin at $0.99)
8. DATA WING – Unique racing game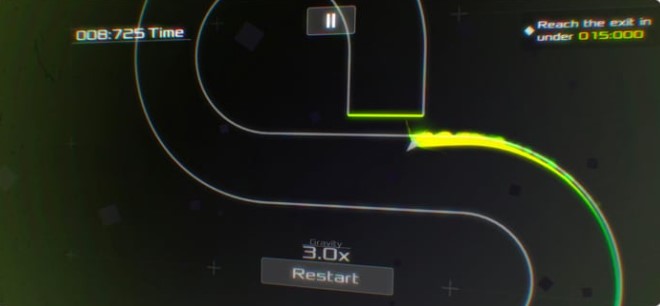 DATA WING is an unusual racing simulator. While the design and gameplay may appear simplistic at first, you'll quickly come to like them.
It's not a complicated tale. As a member of the DATA WING, it is your responsibility to maintain contact between the various computer networks. However, an assault on the central system causes people to act irrationally. It is now your responsibility to restore normal operation to the system.
The gameplay is stylish, with neon-inspired colors and appealing music. The campaign mode features 40 stages, and players also have the option of making their music from scratch. As a bonus, you may compete against other users and have your name shown on the leaderboards.
You'll like DATA WING for being different from other games.
Cost nothing; no money required
9. Dirt Bike Unchained: Bikers have to play this game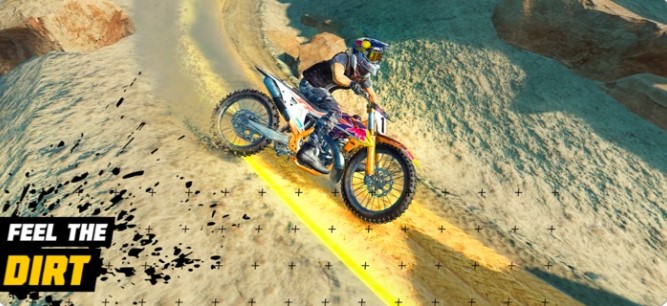 Motocross fans will like the racing action of Dirt Bike Unchained. You should play this game if you enjoy challenging stunts in perilous environments while fighting against muddy track conditions.
In this game, you may choose from a wide variety of dirt motorcycles. Additionally, you may create and virtually ride your very own custom dirt bike. Get recognized as a top rider for Red Bull and work your way up from the Dust Eater rank.
You may also speak with real-life dirt bike racing celebrities like Tarah Geiger and Johnny Walker in Dirt Bike Unchained. Their in-game interactions will teach you crucial methods for beating every song.
Free to download (in-app purchases begin at $1.99)
All set to go?
What did you think of my selection of the best iPhone racing games that I could find? To cater to a wide audience, I made sure to include both arcade and simulation racing games. Can you name your favorite racing video game? Write your thoughts down below.
Read more: