Best security apps for android phones – As much as Android has advanced in terms of security and privacy protection, every measure is too little to keep the information we store on our devices safe. 
After all, Google's Android is the most widely used mobile operating system on the planet, and that makes it one of the main targets of hackers who want to take advantage of any carelessness.
Fortunately, beyond the security systems that the operating system itself incorporates, there are hundreds of security tools on Google Play, which allow us to add an extra layer of protection to our devices, and whose use is highly recommended. 
In this article, we select some of the best that can currently be used.
The best security apps for android phones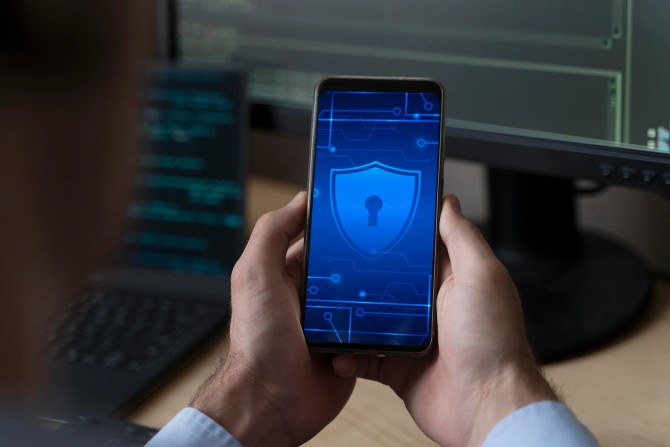 1. Password managers
By now you should already be using a password manager to store all your passwords securely and generate increasingly complex ones. There are dozens of apps of this style on Android, both free and paid, and adapted to the preferences of any user. These are the most recommended.
2. LastPass
Undoubtedly, one of the most complete and popular password managers that exist. 
LastPass is one of the most widely used methods of storage and generation of passwords, which allows you to store all your passwords securely through a master password, and whenever necessary, generate new ones that are secure and threat-proof.
3. BitWarden
A fantastic open-source alternative to LastPass and the other popular password managers. 
Bitwarden takes care of storing all the information related to our accounts, both usernames, and passwords, in an encrypted vault synchronized across all our devices.
4. Myki
An application somewhat less known than the previous ones, but no less recommended. 
Myki is the password manager that I have been using personally for the last year, and it is undoubtedly one of the most original and secure options you can use thanks to its military-grade protection and the fact that synchronization is carried out through the phone number, which allows offline operation.
5. Dashlane
Almost as famous as LastPass is DashLane, one of the most popular password storage and generation apps out there. 
There's not too much left to tell that you don't already know about this app, beyond its versatility and the fact that it offers a host of features to keep our passwords safe.
6. 1Password
Competing in terms of popularity with LastPass and DashLane is 1Password. 
It is one of the most advanced and secure tools that exist, with many interesting features that will serve to keep safe the authentication data of any account, as well as bank details and personal information. In this case, however, we are dealing with a paid tool.
7. Remembear
Finally, an application launched in April 2018 has already sneaked into the top of the best existing password managers on Android. From the creators of Tunnelbear VPN, Remembear is a password manager that bets on simplicity and ease of use, which jumps out when you see the design of the app. Even so, there are no missing functions or features that also exist in other platforms of the same style.
8. Two-factor verification apps
Just as you should use a password manager, two-step verification should be enabled on any of the accounts and profiles you consider important. To facilitate the use of this security method, some apps allow you to generate new keys each time you want to authenticate, thus adding another layer of security to the login process.
9. Google Authenticator
Google's official app is as simple as it gets, but for many, it will be all they need when it comes to securely authenticate to their favorite platforms and services. Simply sync your account, enable two-step authentication, and the codes will appear in the app.
10. Authy
A great, cross-platform, and easy-to-use alternative is Authy. Thanks to the fact that it can be protected via fingerprint or PIN or password, all codes will remain safe at all times.
11. Microsoft Authenticator
Like Google, Microsoft also offers its two-step authentication tool. It is extremely easy to use, and features a clean and neat design, as well as keeping all accounts and codes safe.
12. Locating stolen or lost cell phones
Find my device is updated to improve the search for a lost cell phone
Finding you a stolen or lost cell phone is possible. Many applications allow you to locate any device easily, lock it or make it ring. These are the best utilities for this purpose.
13. Find my Google device
Normally, the easiest way to find an Android device is through Google's application, which we talked about in more detail at the time, since it is automatically associated with the user's Google account and it is not even necessary to have the app installed on the mobile to be able to find it.
14. Cerberus
Cerberus is probably the most complete anti-theft application available. In addition to allowing you to locate, lock or control the device remotely, it offers added features such as the ability to identify the potential thief through the phone's camera.
Google Play | Cerberus
15. Prey Anti-Theft
And if Cerberus does not convince you for some reason, our recommendation as far as anti-theft apps are concerned is Prey. It is an almost equally complete alternative, which allows you to track and locate any lost or stolen Android device.
Google Play | Prey Anti-Theft
16. App Protection
You probably already have some sort of secure screen lock method. However, you can always go further and configure the locking of apps installed on your device, through one of the utilities created for this purpose.
17. AppLock
The most popular app-blocking application tops this list of protection utilities. With it, it is possible to block access to desired apps via passcode, PIN, or fingerprint.
18. Norton app lock
The creators of the famous Norton antivirus also offer us their app-blocking tool for Android. It is as complete as the rest, and behind it is a renowned company as is Norton.
19. Other security tools and suites
There are many other security and privacy preservation apps that do not fall into the above categories but should certainly be installed on as many Android devices as possible. These are our recommendations.
20. 1.1.1.1: Faster & Safer Internet
The company specializing in security software, Cloudflare, offers a simple tool for Android that, after installation, configures the DNS 1.1.1.1 address – hence its name – on the Android device. This DNS address is focused on speed and privacy, so it's definitely worth giving it a try.
21. Intra
Intending to protect any user from Internet censorship, the "Jigsaw" division of Alphabet — Google's parent company — launched Intra, a tool that prevents DNS manipulation that some governments and organizations carry out on devices.
22. Outline
Also created by Jigsaw, we find Outline. In the company's own words, "Outline puts you in control of your privacy by allowing you to operate your server and never logs your web traffic. Strong encryption helps you maintain the privacy of your communications."
Android permissions management is fine, but it can always be improved. 
For this, there is Bouncer, a tool that gives greater control over the permissions of apps, so that it is possible to grant specific privileges temporarily. 
So, for example, if an app needs to access the phone's location, it will be possible to accept this permission only when the app is in the foreground.
23. Firefox Focus
The Mozilla Firefox browser for mobile has always been focused on the privacy and security of users. 
However, to go even further, the company behind the famous browser once created Focus, a limited version of the browser that blocks web page trackers, as well as prevents the storage of the user's browsing history and data.
24. Tor Browser
Despite being in the "Alpha" phase, Tor Browser has already become one of the most popular secure browsers for Android. 
With it, it is possible to connect to the Tor network and surf the Internet in a completely private way by blocking trackers and preventing websites from storing private information.
25. Haven
Backed by Edward Snowden himself, Haven is an app that takes advantage of the resources of Android devices to transform any mobile into an entire surveillance suite. 
To do this, it makes use of the smartphone's various sensors, as well as cameras and microphones. A fantastic way to give a new — and useful — life to an old mobile or tablet.
26. Telegram
Our favorite instant messaging app is also one of the best options you can use when it comes to chatting privately and securely. 
Although its security has sometimes been called into question due to some confusion about the encryption system used by the platform, the company itself has explained on several occasions why all data and conversations are secure on Telegram. 
Yes, there may not be as many users as on WhatsApp, but it may be that the changes that are about to come to Facebook's messaging service will result in a massive movement of users switching to Telegram.
27. Signal
Even more secure than Telegram if possible, is Signal. Even one of the co-founders of WhatsApp decided at the time to donate 50 million of his fortune to the company behind this application, and it intends to become the most secure messaging method that exists.
Also read: the best security apps for phone children's