Best Filter Apps for Photography – Cell phone cameras are getting better and better, and for quite some time now these handhelds have been replacing simpler digital cameras for the general public. While the quality of a DLSR is still superior in many instances, mobile devices have the advantage of allowing improvements in the quality of images captured by editing much more easily.
There are many photo apps for both Android and iPhone (iOS), including free options. The services provide various types of features such as image retouching, management of your phone's photo gallery, manual adjustments, and various filters, ideal for posting on social networks. We have separated some good options of applications for you to install on your cell phone and thus be able to edit your photos!
The Best Filter Apps for Photography with Premium Effect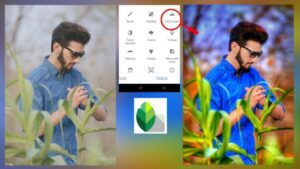 1. Snapseed
Compatibility: Android, iOS

Price: free
Developed by Google, Snapseed is one of the most popular mobile photo editors, with more than 100 million downloads from the Play Store. The main advantage over other apps in the segment is that it is completely free, with many tools and editing features found only in the premium version of some competitors.
Snapseed's interface is divided between filter options and the editing functions area, with many features found in editing software for computers. You can, for example, choose options to remove elements from the image, create double exposure effects, adjust HDR and apply other effects to your image.
In addition to editing adjustments, the app also offers an extensive list of filters with the possibility to save custom presets. Your photos can be exported as a copy or saved to your device's gallery in their original quality.
2. Pixlr
Compatibility: Android, iOS

Price: Free with an in-app purchase option
Pixlr is well known on the PC, but it also has a smartphone version for image correction and collage creation. The app has several features such as filters to give more style and personality to your images, and tools to highlight colors and resize and crop photos.
The overlay is one of the highlights of Pixlr (Image: André Magalhães/Screen Capture)
The image editing window of the application has general tools for editing the image, brushes for drawing or special effects, filters, overlay effects, frames, and text boxes. You can, for example, use more than one filter on the same image to create unique compositions.
Pixrl is free to install but offers a paid version with no ads and more features available. For $7.99 per month or $35.99 per year, the subscription provides access to more brushes, overlay effects, frames, and stickers.
3. Cymera
Compatibility: Android, iOS

Price: free
Cymera is a very popular "beauty camera" app, with augmented reality filters and effects that simulate makeup, change haircuts and apply touch-ups to your face for selfies. The app even goes beyond this function, with options for cropping, editing photos, and adapting them for social networks.
The app allows you to apply the effects to your saved images from your gallery or use the camera to take photos already with visual adjustments. The editing screen is very complete, with tools found in many editors to adjust brightness, contrast, and lighting. It also gives you the option to add stickers, text, frames, and overlay other photos.
Another very interesting feature of Cymera is InstaFit. This function creates custom frames and adapts your images to a square resolution, ideal for publications on Instagram and other social networks. The app is free, but it does have display ads.
4. VSCO
Compatibility: Android, iOS

Price: Free with an in-app purchase option
Want to post a photo on social networks? Check out VSCO's filters before you edit. The photo app, which also functions as a social network for enthusiasts, excels at providing a variety of filters and retro effects for your images.
The platform offers an extensive list of presets inspired by analog camera films. Besides applying these effects to your photos you can adjust the filter intensity and check out other editing tools to adjust brightness, contrast, lighting, colors, and grain level.
Your photos can be exported or published to the VSCO feed. The app can be used to explore community creations, follow profiles and participate in challenges. There is a paid subscription, offered at $104.99 per year or $41.99 per month, which gives you access to more filters, video editing, and exclusive camera features.
5. Photoshop Express
Compatibility: Android, iOS

Price: Free with an in-app purchase option
The world's best-known image editor, Photoshop has a free, smartphone-adapted version. Although it is not as complete as its computer version, Photoshop Express can please users looking for simpler features to those more demanding.
The application can be used to create collages or make adjustments to individual photos. There is an automatic optimization icon for the images, suitable for those who do not want to spend too much time editing. In addition, the application offers filters, manual changes, cropping, and effect corrections to remove blemishes or red-eye from your photos.
Your images can be saved in the gallery or Creative Cloud, Adobe's cloud storage service. The app also has a Premium version, offered at $15.99 per month or $104.99 per year, with more editing feature options, including selective editing, adjustments to RAW files, and an advanced recovery tool.
6. Picsart
Compatibility: Android, iOS

Price: Free with an in-app purchase option
Featuring some advanced features, Picsart is also a good option for those who want an app with features focused on the interaction between its users. In addition to space for editing, the app has areas to share productions with the community and participate in challenges.
A highlight of the app is the presence of tutorials for each available editing effect. This way, beginners to the app can learn more about the result of each tool before using it. Picsart can also be used to edit photos and videos, create collages, and retouch selfies.
Your photos can be saved in the gallery or stored in the cloud by the app. There is a great free hit, but Picsart also has a paid version, available for $15.99 per month or $96.99 per year. Subscription features include an image detail remover, more graphics features, and ad-free browsing.
7. Lightroom
Compatibility: Android, iOS

Price: Free with an in-app purchase option
Adobe Lightroom is one of the best options for getting professional effects on your photos. With its camera and library, Adobe's app combines many functions present in the computer version and allows you to create different compositions on your cell phone.
The app brings several filters and manual adjustments for the elements of your image. It allows you to create and share editing presets, creating a pattern to apply to your photos. If you prefer to use the in-app camera, there is a professional mode with adjustments for ISO, white balance, exposure, and filter usage.
Lightroom has its library, stored in the cloud, with albums and the option to sort by people and dates. The application has a paid subscription with features such as selective editing and an image element remover. The service is offered for $7.99 per month or $80.99 per year.
Also read: the best apps for selling photos