Best iPhone and iPad Apps For Filmmakers – Whether you're a complete newbie or a seasoned veteran, you shouldn't ignore the finest iPhone and iPad applications for filmmakers because of the incredible ease they may offer your work. They're set up to make it easier for you to do things like scripting, shooting, and editing.
How often do you have to postpone filming because of bad weather? Smart apps can help you determine the best time and place to stage a passionate encounter.
Having trouble breaking a scriptwriting rut? An excellent film script may be written with the aid of a scriptwriting app because of the program's insightful feedback and recommendations.
Best iPhone and iPad Apps for Filmmakers in 2023
1. iMovie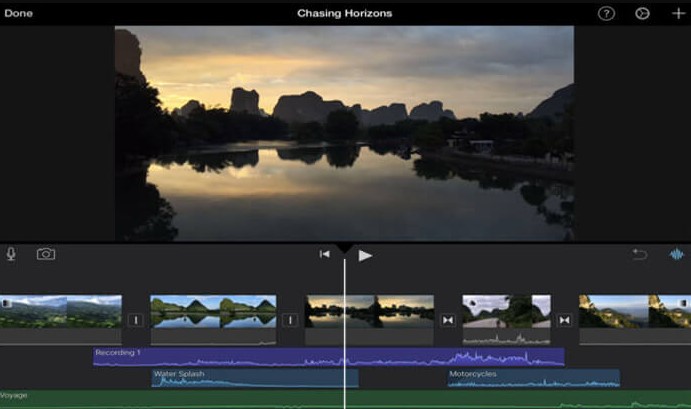 Apple's iMovie has been one of the best iOS video editors for a very long time. Using this program, you can quickly and easily make amazing videos and trailers that rival those from Hollywood.
You now have the flexibility you've always wanted to enhance your artistic expression thanks to our extensive collection of high-quality equipment.
There are 14 gorgeous trailer templates from which to choose, making it a breeze to make high-quality trailers. The movie's credits, including the studio logo, cast members, and names, may all be altered.
Choose from eight different premade themes with corresponding titles, transitions, and background music. You may play around with your films' aesthetics to your heart's content with the 10 available filters.
Price: No charge
2. Intro Maker Effects Video Editor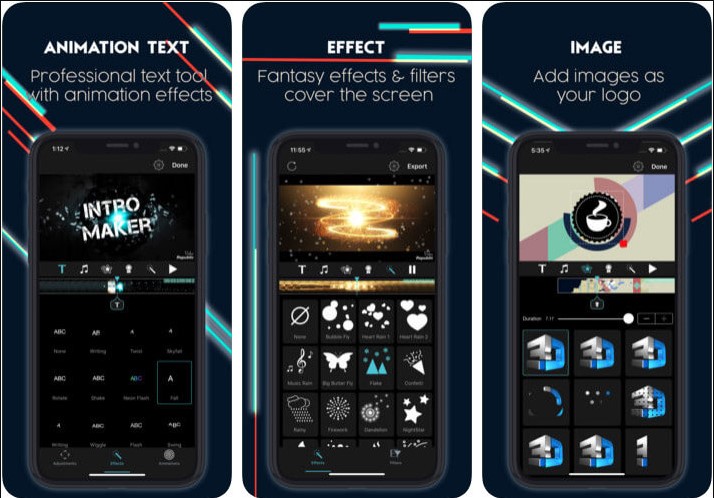 This one is a safe pick for making captivating movie openings, press releases, and illustrious credits, as the name indicates. The app's library of video templates numbers well over a thousand, and they're all beautifully designed.
And with the hundreds of available eye-catching motion stickers, you may craft your films with style. Each text title can have a predefined transition applied to it, and you can customize the transition's start and end times.
You may make your video stand out with a few well-placed titles by adding as many as you like and meticulously customizing their size, stroke, and shadow. Also, you may utilize the fantastic background music and record your voiceovers.
Discounted to zero dollars
3. FiLMiC Pro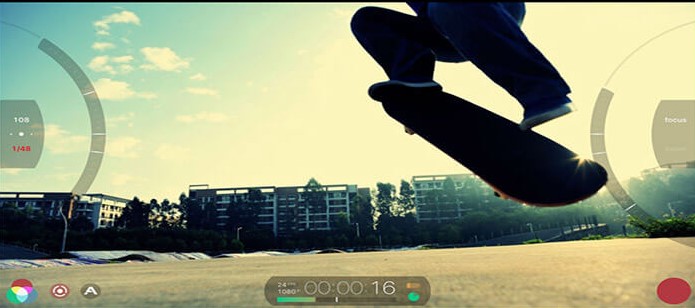 FiLMiC Pro v6 excels at enabling you to shoot captivating films thanks to its high-quality video camera. By recording in the LOG gamma curve, you'll have more tonal latitude and editing options. You'll have pinpoint control over focus and exposure with the help of the dual arc slider.
Maximize the white balance adjustment matrix's built-in and user-defined settings to get the film just how you envisioned it. The efficient recording is guaranteed with real-time analytics that includes zebra stripes, clipping, false color, and focus peaking.
Four rather acceptable encoding choices are available to you, allowing you to trade off between file size and quality. In addition, FiLMiC Pro v6 works with a variety of audio formats like AAC, AIFF, and PCM.
Price: $14.99
4. Shot Lister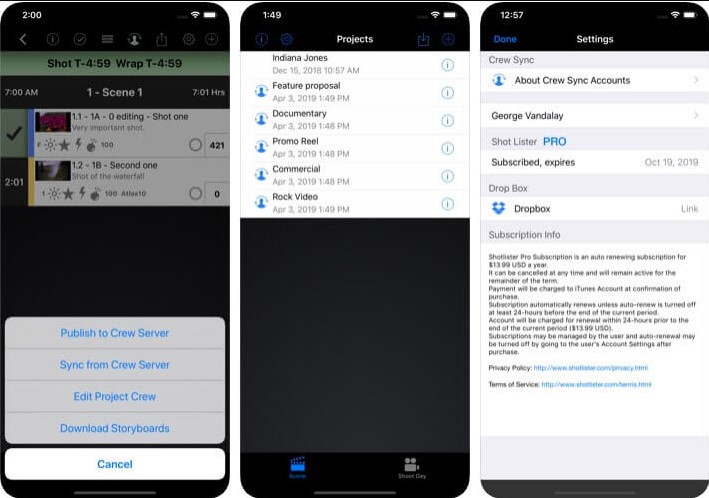 You have a million things to do as a filmmaker, and you don't like writing them all down. Put away your paper list and replace it with Shot Lister on your iOS device. Everything from planning to making last-second calls on set can be done with this app.
The software comes in two different flavors: the free Shot Lister and the paid Shot Lister PRO. The Shot Lister is an excellent choice if you are working on your film productions. Shot Lister Pro may be relied on for more involved productions.
Price: $13.99
5. MovieSlate 8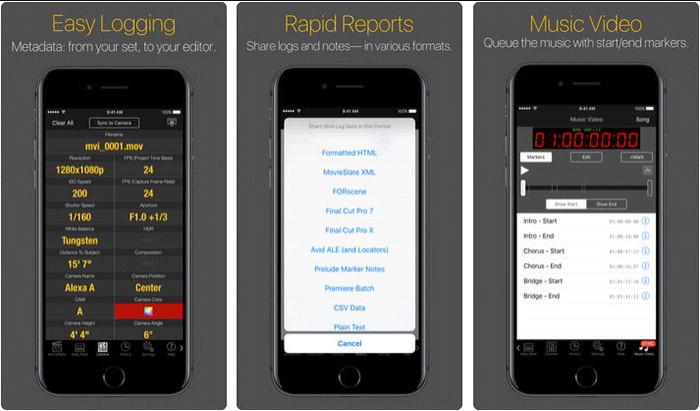 MovieSlate 8 was developed to be a useful tool for experienced filmmakers to easily keep track of their shooting logs and make notes as they go. The time spent recording, editing, and writing reports will be greatly reduced.
Information about manufacturing may be updated with a single tap. Pick relevant details from predefined or user-created snippets, stored contacts, and previous visits.
Input numerical data like as roll, scene, take, timecode, etc. quickly and simply with the streamlined keypad. You can grade the audio/video quality and make multiple-shot notes to ensure consistency with the strict quality standards.
Price: $29.99
6. ProRemote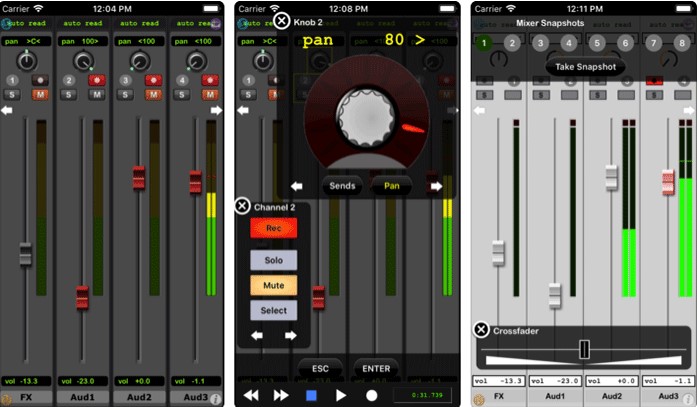 Does having finer control over audio programs bother you at all? The best option for wireless control is the ProRemote. It provides live meter readings so you can easily manage your setup from a distance.
You may easily adjust the audio equipment with the aid of ProRemote's simulated mouse and keyboard. The fact that it works with other programs such as ProTools, Apple Logic, Ableton Live, Soundtrack Pro, and Digital Performer is also noteworthy.
Price: $42.99
7. Studio Switcher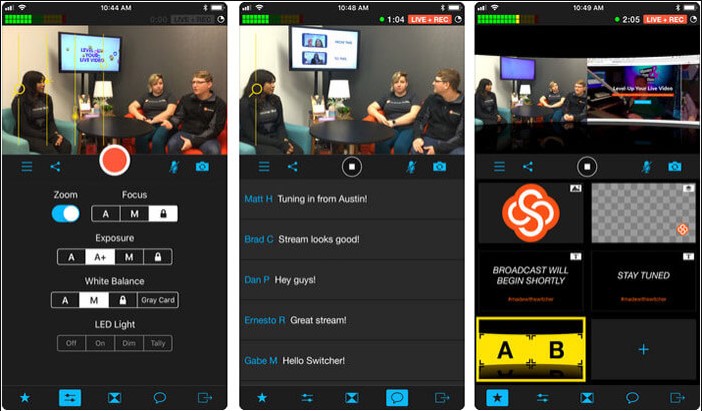 Switcher Studio is a time-saving tool for making professional-looking videos. This tool might be useful if you want to create quick advertisements for your social network accounts.
Video in 1080p or 4K resolution may be recorded, and the footage can be played back on a TV or projected onto a wall. The maximum bitrate for recording video is 50MB. Better still, you can make use of Apple's professional-level editing capabilities by exporting your video to Final Cut Pro X.
Discounted to zero dollars
8. Scripts Pro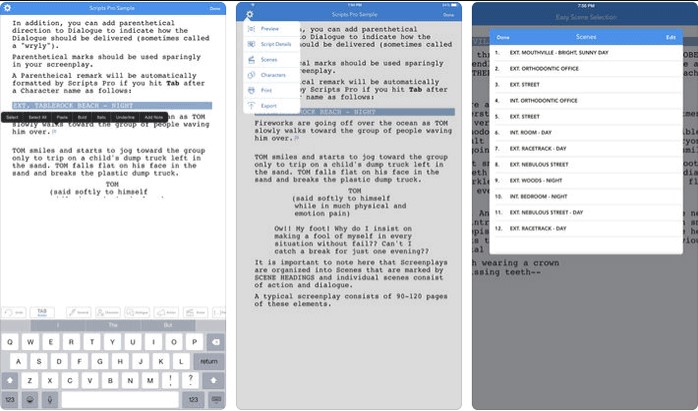 If you want to jot down ideas for your film's script wherever you happen to be, Scripts Pro is the app for you. The intuitive layout makes drafting a screenplay a breeze. The app gives you the option of setting your speed, which is often preferred.
Require a timely jump start to finish your tasks with flying colors? Not. The software offers helpful ideas to help you write more quickly. In addition, a preview mode is available for you to read through your script in a studio setting. In addition, Scripts Pro supports cloud storage sync via iCloud and Dropbox, so you can view your work from any computer.
Price: $9.99
9. Sun Surveyor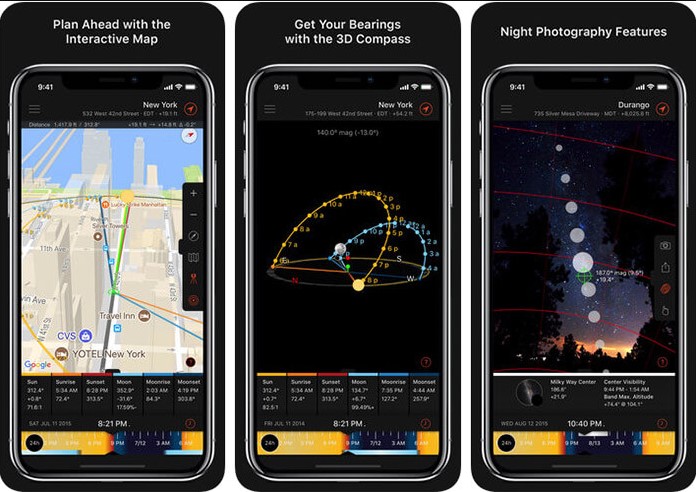 Don't want Mother Nature to be a deciding factor in your shooting schedule anymore, huh? If you need to know the exact times of dawn, sunset, and moon phases immediately, Sun Surveyor is a great choice. Consequently, you'll be able to meticulously arrange where your films will be shot.
Quickly locate the best lighting for your shot with the aid of the 3D compass, live camera view, and interactive map. View genuine projections of the sun's and moon's course using augmented reality.
When the sun will rise or set at a specific time may also be determined. Because of this, you won't have any trouble preparing your people for a romantic sunset or moonlit shoot.
Price: $9.99
10. Sun Scouts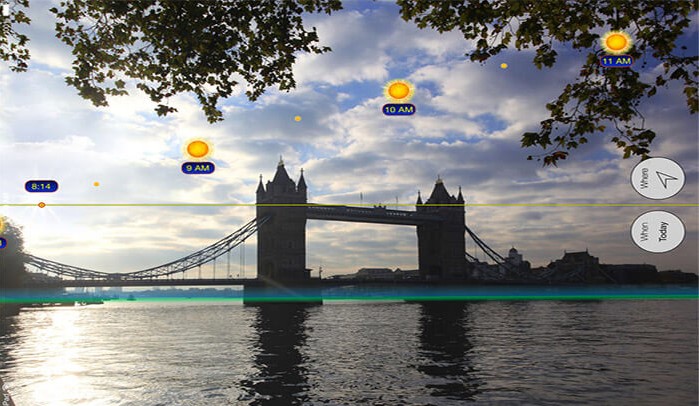 Does your play require direct sunlight? You need Sun Scout to rapidly determine where the sun will be and when it will be there.
Now, how does this cool app function? Sun Scout, on the other hand, uses your iPhone's compass to get precise data. Furthermore, this app's clear appearance and dependable operation are two of its most valuable features.
Price: $9.99
I think that's all there is to it, guys.
Choose one of these as your preferred option.
You have everything you need to create the blockbusters that will send the box office into a frenzy, so get to it! Tell us everything about the cool new app you found for producing movies.
These other threads may also interest you: