Best apps for passport photos – We don't use passport photo apps every day, but they are very useful for saving money on taking and printing photos for any document. To that end, I've put together a list of the 11 best passport photo android apps and iOS platforms. They all have intuitive user interfaces, convenient settings, and templates for many documents and countries.
Review Best Apps for Passport Photos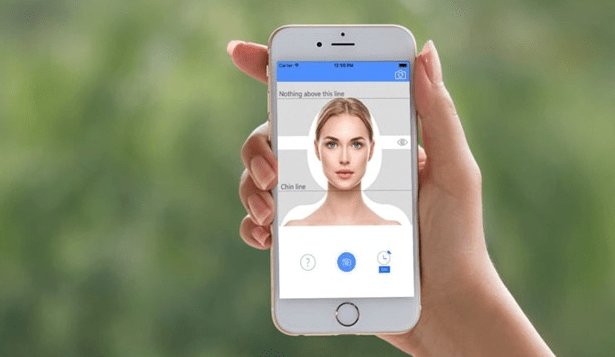 1. Passport ID Photo Maker Studio
Universal passport photo app for all documents
Pros
Adds name and date
Resize a photo
Supports JPEG and PNG file formats
Easy to use
Convenient cropping function
Cons
Passport ID Photo Maker Studio has been downloaded over 5 million times from the Play Store and is the most requested passport photo app for Android. This app allows you to crop photos for passports, VISA apps, and driver's licenses from many countries.
This app also allows you to print photos on different paper sizes, including 4×6, 5×7, or A4.
Once you've prepared your photos in the app, you can order prints from Walgreens Photo or Amazon. The standard version of the app has some pretty basic features.
If you feel like you need more features, purchase the PRO version, which offers background removal, ink saver, and helpful photography tips. It's worth noting that the in-app purchase doesn't cost more than visiting a local photo printing service, so you have a choice.
2. Passport Size Photo Maker
The best app for creating passport photos.
Pros
Easy to use
Affordable premium version
Cons
Difficult to change the background
It takes a long time to select the desired area in the image
Photo size is not correct for some countries
If you want to turn your Huawei tablet into a photo studio, this passport photo creation app is a good choice. It offers a catalog of passport photo templates and VISA photos suitable for nearly 150 countries.
Passport Size Photo Maker contains some image editing tools. You can change the background, improve white balance, saturation, brightness, and much more.
It is possible to combine your VISA photo, ID photo, or passport photo on a single 4×6, 5×7, or A4 paper. Once you have processed your photo, you can print it in different sizes using a local printer. It is also possible to use the services of printers such as Walgreens, Amazon, CVS, or Kinkos.
3. Passport photo
Versatile photo application for official documents
Pros
Digital photo in seconds
First-class service
Photos conform to established standards
Satisfaction guarantee
Cons
Passport-photo. online is available as a regular website and an application that allows users to take a photo for a passport, ID card, or visa (biometric documents). The app works like a pocket photo booth, which allows users to take a photo in seconds without having to go to a specialized agency.
On the website, you will find not only a simple instrument for taking photos but also a host of useful instructions, current requirements, and recommendations on how to take different document photos, such as how to save $10 by purchasing a passport photo at Walgreens. There is also a separate version of the iPhone app for passport photo users who want to quickly take a passport photo.
4. ID Photo Free
The most convenient ID photo studio application
Pros
Works without delays
Convenient and fast app
Cons
The number of documents is limited
Background removal is only available in the PRO version.
If you are looking for the best apps for passport photos, you should take a look at ID Photo Free. It allows you to create a photo for your passport or any other official ID form.
The app is very user-friendly and guides you through the process of creating the right photo. ID Photo Free has several image processing tools that allow you to make the necessary adjustments.
Compared to other apps, you don't need much time to edit an image. Everything can be done in a minute. Moreover, the app has templates for many countries, which will make your work much easier.
You don't have to take a new photo, but you can select an existing photo from your gallery and edit it with ID Photo Free. The application is free but contains advertising.
5. Passport Photo ID
Best apps for passport photos for Android
Pros
Cons
The average quality of saved photos
The free version contains watermarks
This app developed by Handy Apps allows you to create a photo for a passport or other ID document without spending a dollar.
With Passport Photo ID, you can take a photo with your camera or use an existing photo and choose different photo sizes to meet the requirements of each official organization. This photo ID app offers templates suitable for over 100 countries. In addition, it is possible to print a photo directly from the smartphone.
Passport Photo ID is a very easy-to-use application. All you need is a smartphone, white background, and adequate lighting. Just follow the app's recommendations to get professional-looking passport photos that meet the standards of all authorities around the world.
6. Passport Photo – ID Photo
Practical application VISA Photo
Pros
Easy to use
Creates photos for different types of documents
Cons
Photos cannot be printed directly from the app.
No user manual
If you are looking for the best apps for passport photos for iOS, you should consider Passport Photo – ID Photo. This universal app allows you to create, edit and print ID photos, VISA photos, or passport photos with your iPhone.
The best feature of this ID photo editor is the background eraser, which precisely removes the background of the photo. This is a great way to save some money instead of using expensive background removal services.
Don't hesitate to download this application if you need a perfectly cropped photo for official purposes, as it meets the exact standards of passport, VISA, or other ID card photos. If you want to print your photos, you can choose between 3×4, 4×4, 4×6, or A4 sizes.
To see Passport Photo – ID Photo in action, just head over to the App Store and install the app on your device. Once the installation is complete, take a photo, make the necessary adjustments and print your photo. It should be noted that the app has paid features such as background and ink removal.
7. Passport & ID Photo Maker
Create, scan, and edit pass & ID photos.
Pros
ID templates for over 130 countries
Recognition of biometric characteristics
Print or save & email digital photos
Cons
No possibility of deep skin retouching
Passport & ID Photo Maker is a user-friendly app to create photos for passports, visas, ID cards, green cards, DV lottery, driver's licenses, and other documents directly on your smartphone. With just a few clicks, you get a customized passport photo that meets all required standards.
8. ID Photo
Best apps for passport photos for passport size photos
Pros
Customization of the photos
Tips for subject placement
Country specific image scaling
Cons
Sometimes the resulting images don't match the preview
You may save the image in the wrong size
ID Photo is a full-featured passport and VISA photo app with specific settings for 14 countries. With in-app camera controls and helpful instructions, you can take pictures that meet government passport photo standards.
Once you've taken a photo and made the necessary settings, you can save or print it. If you have an AirPrint-enabled printer, you can print your photos directly from your device. The app also has an image editor that allows you to change the contrast, brightness, grayscale, and even the sharpness of the image.
9. Biometric passport photo
Stylish passport photo identification studio application.
Pros
Option to save an image for free
User-centric
Cons
Ads often pop up while taking photos
Looking for the best apps for passport photos that lets you take a picture in a minute at the right size? With Biometric Passport Photo, you don't have to be a pro to quickly format, print, and save passport photos. The app offers passport photo templates from 100 countries in addition to US passport photos.
You can even print your images with this app. Just send an email with your passport photo through the app and print it conveniently.
10. Photid-AI Passport Photo Booth
Passport photo app for any country and document type.
Pros
Many countries and sizes to choose from
Includes tips on how to take photos
Cons
Some issues with saving images
This passport photo app has facial recognition algorithms and artificial intelligence that can identify a person's facial features. The biological recognition technology and advanced tips will help you take a photo that meets all official requirements.
Photid allows you to get different versions of the image – color, black and white, as well as photos in different sizes. In the app, you can make all the necessary image settings with just a few clicks.
The most important thing is to choose the right size of the photo that fits your country.
Fortunately, the app includes image templates for over 100 countries. In addition to passport templates, you can also select driver's licenses, VISA applications, and other documents.
With the app, you can instantly remove the cluttered background from your images and change its color. Select the images, templates, and background colors you want and enjoy the result.
11. PassportBooth
Print photos directly from home
Pros
The possibility to set the timer
All necessary formats for cropping are available
Printing possible (in the USA)
No ads
Cons
Shipping may seem too long
PassportBooth is one of the best apps for passport photos for taking passport photos from the comfort of your home. All you have to do is stand in front of the wall and the app will automatically create a white background. If you notice a shadow, it is recommended to take a few steps away from the wall.
The app allows you to send photos directly to your work email address and adjust the images with various tools, including cropping and resizing. In addition, there is a timer for taking photos.
The Passport Booth app on Google Play and the App Store is really handy because, for just $5.96, you can get professionally printed photos in the mail without leaving home. You get six photos on a single 4×6 print. Orders are usually printed within 7-9 business days or less (the US only) and delivered via USPS mail.
12. Passport Photo Booth
Complete app for passport photos
Pros
Possibility to have photos printed by mail from developers
Suitable for numerous documents
Custom sizes can be used
Cons
This option offers many useful tools and features for image processing. One of the most outstanding features is the ability to have your order delivered directly to your location for $5.96. However, it is faster and cheaper to use the services of your local photo studio.
However, it's good to know that the developers care about their customers and want to make their lives easier. In addition to passport photos, Passport Photo Booth also offers templates for ID cards, VISA applications, applications for work and study, and much more.
This app includes useful tips for taking photos, such as using a white background, removing glasses, etc. These tips are suitable for most official document photos.
Passport Photo Booth is completely free, so it's not surprising that it contains ads. There are no in-app purchases. This means that you can't get any additional features. However, it has enough photo editing features for you to enjoy the result.
Passport Photo Booth works on devices with Android 5.0 or higher. Due to the variety of features, you can use the app worldwide. Many users have rated Passport Photo Booth pretty well, so download and use this powerful photo booth app.
See more about private photo-sharing apps for family