HCTProject.com – Best Apps to Turn Photos into Cartoons – With the following cartoon image apps, you can transform images into cartoons, adjust filter settings and become a superhero with just a few simple clicks.
One of the best cartoon apps suitable for users of all levels is Prisma. Prisma is very easy to use, has a clean and convenient interface, and has many filters. Read on to learn more about this and other cartoon apps currently available for iOS and Android.
With all these cartoon editing apps, you can not only apply cartoon effects to your images but also adjust all the parameters and make color corrections and basic photo edits.
Top 15 Best Apps to Turn Photos into Cartoons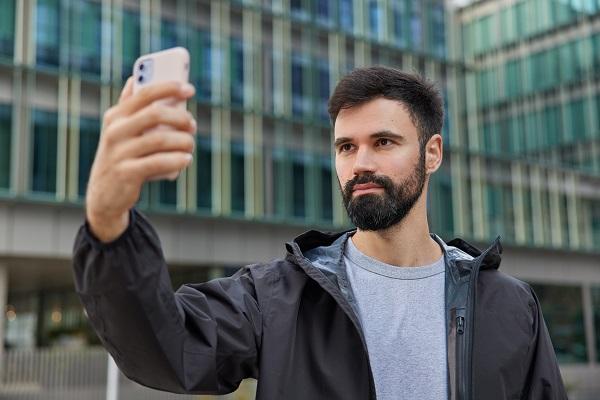 1. ToonCamera
Excellent customer support
Various high-quality filters
Ability to view filters in real-time
Requires iOS 8.1 or higher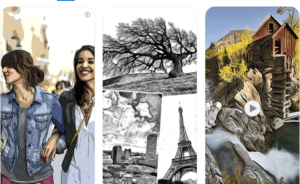 Download for iOS
ToonCamera is a cartoon image app for iPhone and iPad that allows you to apply an animation effect to an existing photo/video in real-time. You can crop a photo and apply various filters to turn an image/video into a cartoon or animation.
The application offers various effects such as pencil, ink, stipple, and cartoon. However, ToonCamera has some weaknesses. It only offers the basic tools, requires iOS 8.1 or higher, and is paid ($1.99).
2. Cartoon camera free
High-resolution photos
Easy to use
Intuitive interface
High-resolution export
Too frequent app updates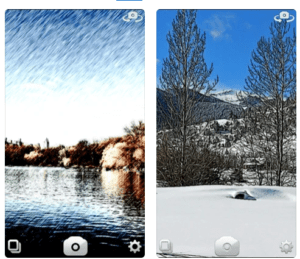 Download for iOS
This simple app offers only two effects – cartoon and pencil sketch. In addition, Cartoon Camera Free allows you to view filters in real-time. You can save all edited images to your gallery or upload them to social media sites. However, this cartoon app has a small flaw. All settings are done automatically, so you can't correct anything on your own.
3. Clip2Comic & Caricature Maker
Supports 1800p when exporting
1080p when exporting
Can convert photos into cartoons, posters, and sketches
Sometimes resets image settings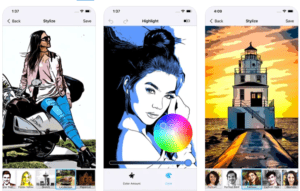 Download for iOS
To create a cartoon image in Clip2Comic, you can use your smartphone camera and take a photo or use photos and videos from the gallery. With the preview function, you can see how the photos and videos will look after applying a certain effect. There are 8 different filters for cartoons, comics, and sketches. In addition, this Cartoon Pic app offers a deformation tool to create caricatures and image editing tools to crop images and enhance colors.
Read more about the best apps for photo books
4. Cartoon yourself video effects
Intuitive interface
Realistic emotions
Intuitive interface
Can delay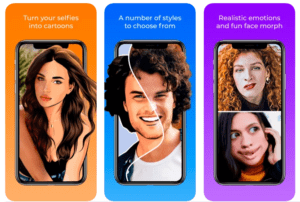 Download for iOS
This mobile-optimized replacement of cartomizer video software allows you to experience a wide range of emotions, from a sad face to a wide smile. This app imitates emotions perfectly. You can also send an animated video or a static photo to your friends via social networks like Instagram, iMessage, Twitter, or Facebook. The app also has a simple and easy-to-use interface.
5. Cartoon Sketch Camera PRO
User-focused
Supports iOS13
Stores photos in the library
Elegant and intuitive interface
Problems in importing images
A limited number of effects
No image editor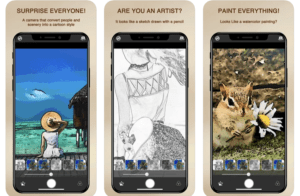 Download for iOS
Cartoon Sketch Camera PRO has only eight cartoon effects such as Cartoon, Sketch, Dots, Halftone, Swirl, Pixellate, Crosshatch, and Emboss. Due to the limited number of animated effects and the lack of image editing features, many users feel that this cartoon pics app is not interesting. Another disadvantage is that the free version has a lot of ads, and to get rid of them you have to pay $1.99.
6. Photo To Cartoon Yourself Edit
Email photos from the app
Add text
New cartoon, retro, and vintage style filters
Ability to email cartoon photos from the app
Compatible with iOS only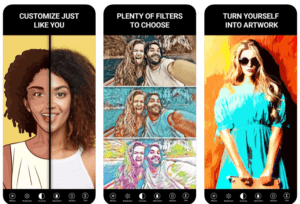 Download for iOS
This is one of the most interesting cartoon apps for iPhone and a fantastic cover photo creator for Facebook. It includes various effects, captions, and stickers. You can also experiment with brightness, contrast, and saturation to enhance your images.
However, the app also has some drawbacks. You can only save your caricature images to your phone or send them via email. The app does not offer the option to upload photos to social networks instantly. Also, Photo to Cartoon Yourself Edit is only for iOS users.
7. Moment cartoon caricature cam
Selfie contests for users
Selfie contests for users
Large selection of stickers
Slow loading app
Problems loading photos
Ads included
Download for iOS
With Moment Caricature Camera, you can participate in selfie contests. Also, you can use the app as a photo editor to make an ordinary photo more colorful and fun. You can enhance your shots by adjusting the brightness, saturation, polishing, removing flaws, brightening, etc. Besides, this cartoon photo iPhone app includes funny stickers and beautiful frames.
8. Cartoon Yourself
Beautiful interface
Easy to use
Contains beautiful cartoon effects
A limited number of effects
Video can not be recorded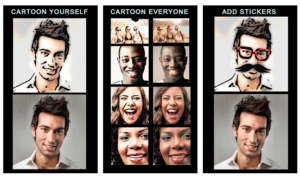 Download for Android
Cartoon Yourself is an excellent cartoon image app for Android users. It allows you to turn your image into a cartoon drawing and a black and white cartoon. The app also provides basic image editing tools that allow you to crop, flip, and rotate images.
You can easily view the images in your phone's gallery or camera roll. With Cartoon Yourself, you can save or share the cartoon image with friends after editing.
Learn more about best slideshow app for android
9. Painnt – Pro Art Filters
Constant updates
Constant updates
Customizable filters
Sometimes delay
Reduces the size of the photos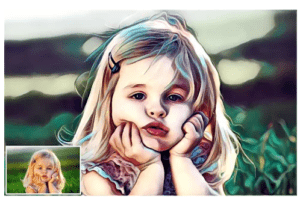 Download for Android
Paint – Pro Art Filters offers over 130 filters, including classic, modern, cartoon, abstract and mosaic filters. In addition, the app regularly releases new effects. After selecting a filter, you can adjust its main parameters (transparency, brightness, contrast, saturation, and hue), color scheme, details (noise reduction, hardness, softness), and brush size.
However, Paint has one major drawback. In the free version, the size of a photo can be reduced during export. To edit HD images, you have to pay an in-app subscription. A 12-month subscription costs $9.99.
10. Camart
A wide range of filters
A wide range of filters
Easy to use
Ad-free
Poor video quality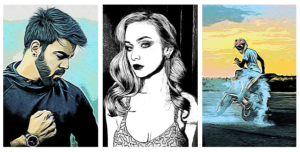 Download for iOS
If you want to quickly turn your photo into a cartoon drawing, Artisto – Art Filters deserves your attention. You can use it to take a photo or a video and apply numerous filters. If you want to use the full potential of this cartoon image app, you need to purchase the Pro or Plus version for $0.99.
The videos recorded with the app are of poor quality. Also, you can only record square videos. However, if you need to improve your pictures, this product can be a good choice.
11. Artisto – Art Filters
Amazing effects
User-friendly
Intuitive interface
Interesting effects
May crash
Contains ads
Download for Android | iOS
Camaro lets you apply and test effects such as Sketch, Pencil, Cartoon, Watercolor, etc. in real-time. You can customize the parameters of each filter to create an infinite number of photo variations. Once you apply a filter and make the necessary settings, you can save the image to your gallery or upload it to popular social media sites.
12. Sketch Me! Sketch&Cartoon
A wide range of tools
Save images directly
Clear edges and opacity adjustment
Numerous video effects, including cartoons
Problems importing images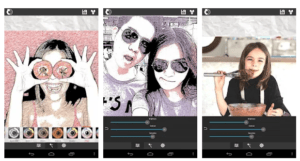 Sketch & Cartoon. Sketch & Cartoon is a fantastic image cartoon app that allows you to edit various photos and apply unique effects to them. The app offers effects such as pastel, cartoon, or strokes that allow you to create artistic images.
You can manually adjust each effect and change settings like border intensity and opacity to highlight a specific area of the image. You can superimpose different images and geometric shapes in your photo and adjust the transparency to give your image an extraordinary character.
13. MomentCam
Create your cartoon effect
Create your cartoon effects
A wide range of templates
Constant updates
Easy to use
Problems loading photos
Few images in a free version
MomentCam has gained a lot of popularity among users recently. With this great app, you can easily create cartoons from your photos. You can add an existing image in the app or take a photo with the in-app camera and then select the template you want. You can add themes and stickers to your images to make them even more fun.
You can add beads, hats, and glasses to your photos and change the background and facial expressions. Unfortunately, all caricatures created with the free version are watermarked. If you want to remove a watermark from your photo, you'll have to make an in-app purchase.
You also like best photo organizer app for iphone
14. Cartoon Photo Editor
Great customer support
Autofocus while shooting
You can apply effects to existing photos
Customizable settings
Easy to use
Contains advertisements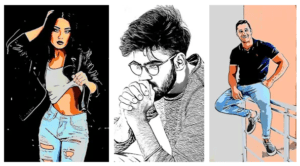 Cartoon Photo Editor allows you to apply effects such as cartoons, comic drawings, sketches, color sketches, art, black and white cartoon, etc. You can see the effects in real-time to make sure they are suitable for your photos. You can also add captions, stickers, and tags to the image. Another advantage of this cartoon photo app is the simple and attractive user interface. The only downside of Cartoon Photo Editor is that the app contains many annoying ads.
15. Prisma
A large number of filters
New filters are released all the time
300+ filters
Imitation of famous artists' styles
Possibility of applying only one effect to the same image
Expensive subscription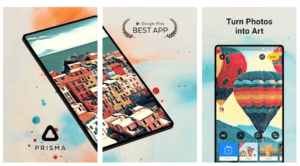 A few years ago, Prisma was one of the most popular apps for cartoon characters. Although the app is not as popular today, it still offers many interesting effects. Besides, Prisma releases new filters almost every day, so you can always liven up your gallery with new, unusual images. Prisma's strength that sets it apart from similar products is its fast image editing process. Its cloud technology allows you to get the desired result immediately, while with other apps you have to wait several minutes.
Learn more about app to share photos with family