Ringtone apps for iPhone – All of us who own iPhones take great pleasure in the ability to customize them to our tastes. The iPhone can come to life with the right music and ringtones, and there are plenty of applications to help you find them.
What's more, you may utilize them without spending a dime and find options there to suit virtually every preference. Get out there and discover new sounds with these excellent iPhone ringtone applications.
Best Free Ringtone Apps for iPhone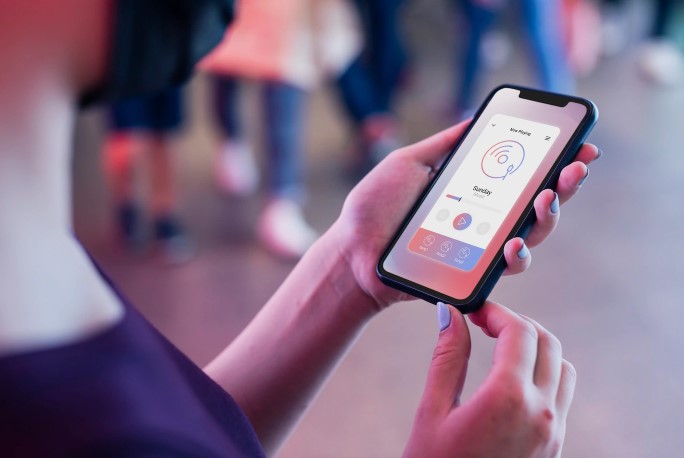 1. Ringtones — Editor's selection
One of the best ringtone creator applications, along with all the cool extras, is at your fingertips right now. The Ringtones: Ringtone Maker program has several features, such as a trimmer with a fade-in and fade-out option, that allow you to make ringtones from your tunes. If you have a song in your Apple Music collection, you can use it to make a killer ringtone.
Considering turning one of your cloud-stored MP3s into a ringtone? To make your ringtone, just import the MP3 song from your iCloud Drive. In a nutshell, Ringtone Maker can satisfy all your requirements for creating ringtones.
There are a ton of great features in this program, and one of them is a huge library of the most popular ringtones. You may get ringtones in Classical, Rock, Hip Hop, Jazz, and many other genres. Additionally, fantastically fresh ringtones are updated periodically.
Furthermore, the iPhone allows you to utilize the audio from any video as a ringtone. To make a ringtone, you just choose a video from your iPhone, rip the audio, and convert it to the appropriate format.
The iPhone allows you to capture audio and convert it to a ringtone, allowing you to personalize the phone's sound for calls, texts, calendar events, and alarms. Make use of this straightforward feature to generate ringtones that are unique to you.
Downloading is free, with in-app purchases beginning at $2.99.
2. RingTune – the most recent ringtones
To set a ringtone on an iPhone, RingTune is the best option because it is the most well-designed, feature-packed, adaptable, and simple software available. Many different types of ringtones are available for you to peruse and choose from. And if you like, you may make your playlist with music you already own. Apple allows users to create their ringtones, text tones, and alarm tones on their iPhones.
Additionally, all of your ringtones will be stored in a "My Tones" library where you can easily access them and make any necessary changes. Intriguingly, it can also serve as a wallpaper app, letting you set a stunning image as your lock screen background. This program is great for making live backgrounds from videos. Isn't it neat?
This great two-in-one program will allow you to alter both the appearance and the sound of your iPhone. The app's only real drawback is that it's filled with intrusive advertisements that detract from the experience.
The Rice app itself is free to download, but additional content costs $2.99.
3. Tones Store – Biggest Catalog
When it comes to ringtone applications for the iPhone, TUUNES has been around for quite some time and is well-regarded. This software includes a huge collection of ringtones and notification tones to satisfy anyone's preferences. The creators also regularly add new songs to ensure that there is something for everyone.
Over ten thousand legally licensed songs are available on the app right now, and you just have to sit through a few adverts to obtain them. This program, like its predecessor, allows you to create custom ringtones, but the interface is less user-friendly. With this program, the sky's the limit.
Additionally, you may examine the most popular songs, keep up with real-time statistics, search for a certain artist, song, genre, or ringtone tag, and listen to previews before deciding on a final purchase.
Costs nothing outright, but optional in-app purchases can cost up to $9.99
4. ZEDGE Wallpapers – Everything in one
It's worth noting that ZEDGE is one of the few apps available where users provide 100% of the material. You may find the perfect song and background among the app's 25 million users and beyond. It's possible that someone, somewhere on the globe, is facing the same decision you are.
If you're looking for copyright-free photos, ZEDGE is your one-stop shop for ringtones, backgrounds, and more! More than that, the program is constantly updated, so you can expect to find new songs and backgrounds to use at no cost. The app's functionality extends much beyond just visual customization, though. You can keep up with your favorite bands by following their icons and NFTs.
The only drawback is that the software is supported by advertisements, so you may see a commercial before or after completing a download. However, the absence of individualized ringtone options is a major drawback of this program.
The software itself is free, however additional content costs $0.99.
5. Make your own iPhone ringtones with Ringtone Maker (music)
If you own an iPhone, you need Ringtons for iPhone. An abundance of options for making a customized ringtone makes this software the finest option. Converting any sound or speech into a tone is as simple as recording it.
Other audio files can be imported and edited. You may specify the beginning and ending times, change the pitch, volume, and other settings, and even access more advanced options like fade in and out! This software is everything you need to make a unique ringtone in a matter of minutes without spending a dime.
The software itself is free, however additional content costs $0.99.
6. Top Ringtones of 2022: Most Categories
In 2022, the Best Ringtones app received an upgrade that put a thousand songs at your fingertips. All of these songs are neatly organized into 25 different genres within the app, such as "Most Popular," "Nature," "Classical Music," "Anime," "Vintage," and so on.
The app is still enjoyable despite the abundance of annoying video adverts. Aside from being able to create a custom ringtone for incoming calls, you can also use this software to create a custom ringtone for your text messages or alarm. You may easily convert the song into a ringtone by simply saving it to your device. Now we're done!
Costs nothing to download (in-app purchases begin at $2.99).
7. Ringtones Maker – Make your ringtone
An iPhone ringtone may be made in a matter of minutes with the help of the Ring app. The software is less than 20 MB in size, so it won't take long to download. The next feature is the capability to make ringtones for your iPhone in any style in a matter of seconds.
For a smooth start using the software, the included lessons are fantastic. It also allows you to create a charging tone, convert videos and music to Mp3 and Mp4, and use editing tools like fade-in and fade-out. That way, you'll find exactly what you're seeking!
Due to its very limited music selection, this program may be ideal for creating unique ringtones.
Costs nothing to download (in-app purchases begin at $2.99).
8. iPhone Ringtones – Easiest to Use
This is the app that will finally blow your mind if none of the others have done so. If you're tired of your iPhone's default ringtone, Infinity claims to give you a whole new set of options to choose from. This program is quite intuitive, and it even allows you to store your work and categorize it in a Favorites library for fast access.
In addition to the artist-approved content, this app also has daily music updates. There are songs from many different genres, including Rock, Pop, Indie, R&B, Electronic, Country, and more.
More so, you may always be hip to the hottest sounds thanks to the daily addition of new featured music.
App itself is free, however additional content costs $7.99.
9. New Text Tone
New Text Tones is a good software that provides iPhone users with over a hundred different text tones. There are more than fifteen distinct types of text colors to pick from. If you're tired of your phone sounding generic, this app is a great way to change that.
This program allows you to create unique ringtones for each of your contacts. There are many different types of text tones available, some of the more common ones being loud text tones, quiet text tones, amusing text tones, and so on.
You may download as many ringtones as you desire without any limits.
10. Cool Ringtones
Those in search of hip ringtones will find this program particularly useful. Now you can ditch the monotony of your iPhone's default ringtones thanks to this software. This software provides you with all the tones you may need, whether they be ringtones, text tones, voicemail notifications, or email noises.
One of the nicest features of the iPhone is the ability to customize it with the help of this software. This is the perfect software for you if you're always bored by your phone's default ringtone. Finally, you can use this program to make ringtones off of any music you choose.
11. Infinity
Infinity was made so that iPhone user may access a large library of ringtones. Download this software to give your iPhone new life if you're tired of the default ringtone. In addition to ringtones, you can also set alert sounds for your calendar, email, and texts.
In the premium audio collection, you'll find thousands of excellent ringtones available for instant download. This program also allows you to make custom ringtones for your phone. In addition, you may listen to premium tracks that have been legally licensed by the artists.
All done!
With these programs, you may quickly and easily locate the perfect iPhone ringtone. If the selection in their collection isn't to your liking, you can always play DJ and make your ringtones. Leave a comment down below if you have any queries or concerns!