Best App for Budget and Saving: Are you barely making ends meet and have nothing left at the end of the month to put away? That doesn't have to be the case: Savings apps help you keep track of your income and expenses, define savings goals and achieve them!
It shows you how you can improve your savings behavior and where your possible weak points are. You may be able to save a little money at one or the other corner and thus finance a few wishes.
In our article, we reveal which apps for saving money are particularly recommended for Android and iOS.
What is a savings app?
Savings apps are designed to help you save money. They support you in improving your handling and your relationship with your money. They give you a good overview of your finances and show you where you can make savings.
How do savings apps work?
The numerous apps take very different approaches, but they all lead to the same goal: They help you achieve your savings goals.
Multibanking apps, for example, combine several bank accounts. This makes it easier for you to keep track of your total income and expenses. You use other apps to keep a budget book. Once you know what you're spending your money on, you can decide where you might want to cut back.
You can also use a savings app to set savings goals. The app will remind you with push notifications to stick to your savings goals. In addition, some savings apps will alert you when you're over-consuming – for example, when large amounts are coming out of your account.
The Best App for Budget and Saving 2022
More and more customers are doing their banking on their smartphones. This applies to both private customers and those with a business account. Accordingly, not only banking but also saving money takes place with the help of an app on the smartphone. There is a wide range to choose from. Which savings apps are suitable for you depends on the approach you want to take to saving money.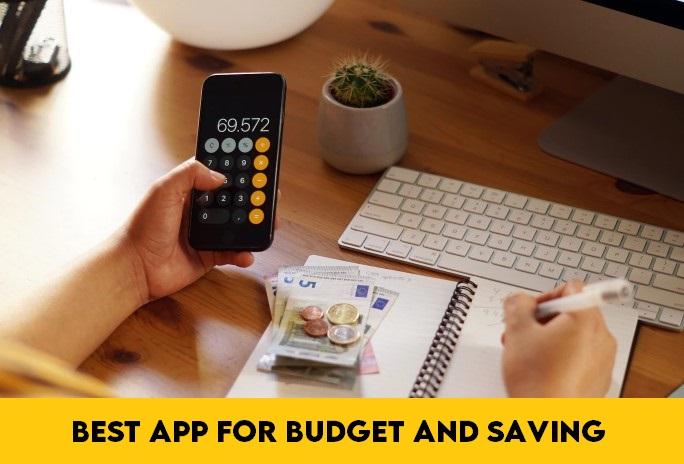 1. Budget book: Money Manager
Money Manager The ideal savings app for anyone who wants to keep a budget book to manage their income, expenses, and budgets. Clear graphs and statistics show what you spend your money on. You can even include your credit in the app and see immediately how much money you have left.
Based on the data you have to enter in the app, the app creates clear statistics that help you get a good overview of your finances. To keep your budget book as detailed as possible and adapted to your spending habits, you can define various categories and subcategories yourself.
The Money Manager app for Android and iOS smartphones is available in a free version. If you also want to use Money Manager on your computer, you have to invest in the premium version.
Available for: iOS and Android
Languages: German, Bengali, English, French, Indonesian, Italian, Japanese, Korean, Polish, Portuguese, Romanian, Russian, Spanish, Tradit. Chinese, Turkish, Ukrainian, Simplified Chinese, Vietnamese
Price: free, Money Manager (+PC Editing): 5,99 €
2. Monefy: Expense Manager
With the expense manager Monefy, you can easily track all your expenses. All you have to do is enter all your expenses in the app. Additionally, you can categorize your expenses.
In a pie chart, you will then get an overview of where your money goes. Alternatively, you can also display your expenses in the different categories in a chronological list. In addition, you can vary between card payments and cash transactions and benefit from extensive analysis tools.
If you use Monefy on multiple devices, for example on your smartphone and tablet, the data will be synchronized there.
Available for: iOS and Android
Languages: Croatian, English, German, Bulgarian, Italian, Malay, Norwegian.
Price: free of charge
3. Monkee: saving and cashback
The most effective way to save money is to learn and establish a healthy saving behavior. The savings app Monkee helps you with this. On the one hand, it offers insights from science on the subject of saving, and on the other hand, it motivates you to put a few euros aside for yourself.
To use this function, you have to register for free in the app and then open an account with a partner bank. Once that's done, you can set your savings goals. To make sure you reach your goals, Monkee gives you regular updates and sends you to push motivations.
As a nice feature, you can even invite family and friends to work with you on your savings goals. This way, you can encourage not only yourself but also those around you to put money aside to fulfill a few small dreams or even vacation together.
Available for: iOS and Android
Languages: English, German
Price: free of charge
4. Daily budget original
With the savings app Daily Budget Original you can set savings goals and track your income and expenses. This way you get a better understanding of your spending habits and always have a close eye on the movements in your account.
What makes this app special is a very special feature. It reminds you of the spending limits you set yourself. The limit can be for the whole month or set daily. This way, you will be automatically reminded to save and avoid spending too much money unnoticed.
Available for: iOS and Android
Languages: English, French, German, Italian, Japanese, Portuguese, Russian, Spanish.
Price: free
5. Loot: Money Box Saving Tracker
Loot is a virtual piggy bank that sets aside money to reach your savings goal. What makes Loot special is that the savings app calculates the time it takes you to reach your individual savings goal. To help you stay on track, Loot even creates a savings plan for you and sends you to push notifications. So excuses are no longer an option.
When you create your savings plan, you can decide whether you want to save weekly, every two weeks, or once a month. And if you also care about the look, you can personalize your 3D money box with different labels.
Available for: iOS
Languages: English, French, German, Italian, Japanese, Korean, Norwegian, Russian, Chinese.
Price: free
6. Finanzguru: Multibanking and savings app
You surely know the savings app Finanzguru from TV commercials: it allows you to do classic multi-banking on iOS and Android. This means that you can bring all your bank accounts and securities accounts together in a single place. This way, you always have an overview of all your finances and can save better.
Multibanking is not only good for private purposes. You can also link your business accounts in this app. In combination with Finanzguru, you not only have an overview of your accounts but can also react immediately to any financial changes in your private and business life.
But the app can do even more: Finanzguru also manages your contracts. This is especially helpful if you are not so familiar with legal issues and formalities. In this case, the app gives you a recommendation as to whether the respective contract is legal and watertight, and also gives you valuable tips on saving money.
Available for: iOS and Android
Languages: German
Price: free of charge
7. Wally: Smart Personal Finance
With the multi-banking app Wally, you can track all your accounts, expenses, and budgets automatically and keep full control over your spending. You manage all your accounts through a clear dashboard. Your expenses are visualized by category, transaction, day, account, and currencies in interactive charts. You can also add notes and receipts to your transactions and keep track of the payment of upcoming invoices with a reminder function.
Custom settings help you adjust your budget to your financial needs and make it easy to monitor your spending in each category daily. A budget tracker helps you not to exceed your budget.
Wally is only suitable for achieving your personal savings goals: You can invite friends, family, or your team to manage accounts and budgets together.
Available for: iOS
Languages: English
Price: free
8. Wallet – personal finance
The multi-banking app Wallet helps you flexibly plan your budget and record your expenses, and you can manage all your accounts as well as cash in just one app.
The app automatically syncs with your bank accounts and expenses are also automatically categorized. Informative reports and easy-to-understand graphs and financial overviews provide you with comprehensible insights into your financial status. This way you can keep track of your bank accounts as well as expenses with your credit and debit cards, cash, and also your debts. By the way, you can also upload your loyalty or bonus cards in the app.
Available for: iOS and Android
Languages: Czech, Azerbaijani, Danish, Dutch, English, French, German, Greek, Hebrew, Hungarian, Indonesian, Italian, Polish, Portuguese, Romanian, Russian, Slovak, Spanish, and Ukrainian.
Price: free of charge
9. SayMoney – Your finances
With the budget book SayMoney you can manage, categorize and evaluate your expenses and income including the corresponding receipts. You can enter both individual transactions in the app. You can also enter recurring payments or standing orders to simplify the entry. At the same time, you can use the app to write shopping lists or set savings goals.
Available for: iOS and Android
Languages: Arabic, Danish, Dutch, English, Finnish, French, German, Italian, Japanese, Malay, Polish, Portuguese, Russian, Spanish, Swedish, Turkish, Simplified Chinese.
Price: free
Savings apps for Mac and PC
With savings apps for your smartphone, you can keep an eye on your finances and savings goals anytime, anywhere. But especially when it comes to finances, it can also be helpful to get an overview of your monthly income and expenses on a big screen on your computer.
10. You Need a Budget (YNAB)
You Need a Budget is a financial software based on the idea that your monthly spending budget is divided into different categories. This means that all your money will be divided among the different categories and your account balance will be zero at the end of the month. How to save money with it? Quite simply, by setting up a "Savings" category and allocating money to it.
The goal of YNAB is not only to track and categorize your finances but also to teach you about budgeting. YNAB is available both as an app for smartphones (Android and iOS) and as software for computers (macOS and Windows).
Available for: App: iOS and Android; macOS and Windows.
Languages: English
Price: App: free; macOS and Windows: 34-day free trial, then "Monthly Plan" for $14.99/month or "Annual Plan" for $98.99/year
11. Moneydance
Moneydance is a personal finance software that compares your income and expenses and supports your savings goals with double-entry bookkeeping and an interface to online banking. The software analyzes your cash flows and creates charts and graphs to give you an overview of your spending.
Moneydance is available for macOS, Windows, and Linux, as well as a smartphone app. The manufacturer offers a fully functional free 14-day trial version, but it is limited to entering a maximum of 100 transactions. The full version is available for €57.27.
Available for: App: iOS and Android; macOS, Windows, and Linux.
Languages: English
Price: App: free; Software: 57,27 €
Here's what you should look for when choosing your savings app
Which savings app is best for you depends on your individual needs and requirements. The smartphone apps are available for free: So, in theory, you can test all apps for free to find out which one best supports your savings goals. Sometimes, for example, less can be more: Perhaps a smaller range of functions is sufficient for you. An app with numerous additional functions that you don't need can quickly seem rather confusing.
In any case, pay attention to data security. Many apps connect to your bank accounts, so you should always make sure that your data is in safe hands.
Conclusion: Savings apps for your smartphone
There are numerous savings apps that you can use with an iOS or Android smartphone to save money. Depending on what purpose you are pursuing, even a simple budget book is suitable for keeping track of your finances and achieving your savings goals. But maybe a multi-banking app, where you can consolidate and manage all your accounts, is also useful for putting money aside.
Depending on your preferences, you'll find the right app to organize your finances, keep track of them, or be directly reminded to save. Nothing stands in the way of your dream of a new car, a vacation at the seaside, or even the start-up capital for your self-employment.
Also read: best apps for setting your goals