Best App for Tracking Food Intake – Calorie counters can help you lose weight by documenting your daily calorie consumption. We have collected and evaluated corresponding apps for you.
The principle of losing weight is always the same – simply consume more calories than you take in. The calorie account must be negative – then the fat burning starts.
While our basal metabolic rate is relatively fixed by weight and muscle mass, we can strongly influence the additional calorie consumption not only through exercise but of course also through eating behavior.
How do calorie counter apps work?
To document the calorie consumption by exercise, there are now various fitness trackers or smartwatches that record, analyze and evaluate every step taken and every step taken.
The situation is different when it comes to counting the calories we take in during the day. Unfortunately, it is not yet quite as automatic as counting the calories consumed – but various apps help to ensure that the balance of calories taken in and consumed at the end of the day is as close as possible to the personal goal.
In the beginning, it's time-consuming to weigh and enter each meal. But you quickly get into a routine. After the first week, everything becomes easier to do.
Many apps have a barcode scanner that allows you to scan the barcode of the food with your phone's camera and enter the exact nutritional values and total calories.
However, the barcode scanner is not a panacea – because the whole thing of course only works with ready meals or packaged foods that have a corresponding barcode.
If you cook yourself, make a salad or eat in a restaurant, the barcode scanner will not help.
Who are calorie counter apps suitable for?
We have found: Calorie counters support the desire to live a healthy, active life. 
The concept is fun and the learning effect is high: you get to grips with which foods you choose and what's in them. Be careful, though: counting every single calorie can build up unnecessary pressure.
So it's important to see the apps as support, not as a virtual guru that rules your entire day.
The Best App for Tracking Food Intake and Calorie Counters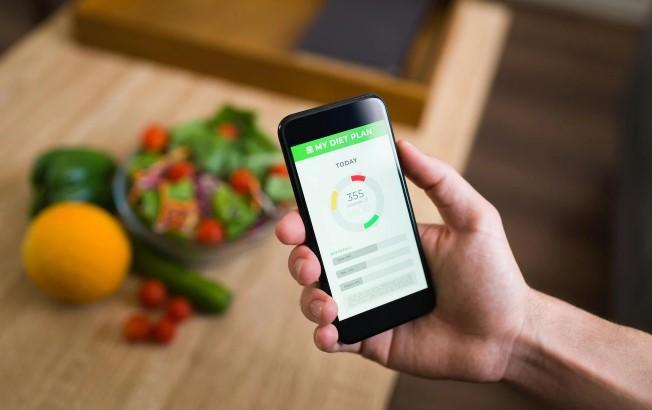 1. Lifesum: Healthy Eating & Diet

This is what the app can do:
Diet planner, calorie counter, barcode scanner, nutrition tracker, water tracker, workout tracker, reminders, and recipes.
How the app works:
Lifesum divides food intake into three categories – carbohydrates, protein, and fat – and automatically determines what you need from them and in what amounts. However, you can also define and set the quantity ratio yourself, depending on whether you want to eat low carb or aim for a high protein diet, for example.
You can also track your water consumption with Lifesum and the app reminds you to drink. In addition, you can record your workouts – but you have to enter the sports units manually. Access to other fitness apps, such as Runtastic, is not possible.
The entered workout workload is counted towards calorie and water consumption – the app reminds you to eat and drink a bit more.
Advantages of the app:
Nutrition diary

Barcode scanner

Training sessions are taken into account in the calorie balance

Large activity database

Calculates required water consumption and reminds you to drink

A nutrition tracker helps you to eat a balanced diet
Disadvantages of the app:
Sports units must be entered manually

Partially expensive in-app purchases between 3.99 euros and 59.99 euros
Premium membership:
Premium members benefit from additional features, such as detailed nutritional information or synchronization with fitness apps like FitBit or Runkeeper.
Various diets are also offered here, such as plans for ketogenic nutrition, fasting, or clean eating.
Free download for iOS users in the App Store, and Android users in the Google Play Store.
2. MyFitnessPal
What the app can do:
Large food database, barcode scanner, nutrient tracker, storage of frequently used foods and dishes, recipe calculator, custom goals, workout tracker.
How the app works:
This app is one of the most popular and has been rated 4.5 out of 5 stars by over 26,000 users in the Apple App Store. The app is 'adaptive' in that foods you enter in the food diary are listed for easy recall. In addition, it can be combined with fitness apps like Runtastic, Runkeeper, or Endomondo, which makes the app especially interesting for sports-oriented users.
The usage is intuitive and the layout of the app is very clear. However, the calorie calculator for different sports shows very roughly calculated values in some cases.
In the app, users can also share training successes with friends and add their recipes and sports exercises. The recipe calculator calculates the nutritional values of a recipe and popular foods and dishes are saved in the app so that they do not have to be entered again and again.
App benefits:
Food diary

Large food database

Barcode scanner

Can be combined with various fitness trackers

In combination with the iPhone (from 5s), a pedometer function can be integrated via the motion sensor
Disadvantages of the app:
Advertising may interfere with the use of the app

Calorie consumption during sports is only calculated very roughly
Free download for iOS users in the App Store, and Android users in the Google Play Store.
3. Noom: Weight Loss & Health
What the app can do:
Personal feedback from the coach, documents weight, nutrition, blood pressure, and blood sugar, personalized food, and sports plans, barcode scanner, large food database, and pedometer.
How the app works:
The Noom app includes a food diary and workouts can be recorded. Signing up is very easy with this app, but one of two paid programs must be selected before using the app. Noom takes a very scientific and psychological approach to diet, trying to create an individualized weight loss plan to prevent cravings or emotional eating. This way, you gradually get used to a healthier lifestyle.
The suggestion function makes it easier to enter the calorie intake: if you enter a food, foods that match it are suggested. This way, you don't have to search for each food yourself. 
In addition, rough estimates are also sufficient with this app; it is not necessary to enter the exact grams. If you opt for one of the two paid programs, you get daily suggestions to improve your eating habits. However, the workouts have to be entered manually.
Advantages of the app:
Food diary

Barcode scanner

Training units are taken into account in the calorie balance

Weight loss success is documented

App gives feedback about eating and training behavior

Battery friendly pedometer
Disadvantages of the app:
Download for iOS users in the App Store, and Android users in the Google Play Store.
 4. YAZIO Fasting & Food Tracker
Calorie chart, food diary, barcode scanner, record workouts, and calories burned, weight documentation, pedometer.
How the app works:
This app has a pretty clear user interface, entering foods is very easy, and common portion sizes are often suggested.
Yazio offers a customized plan for losing weight or building muscle and serves as a food diary where all meals can be documented.
You can also record activities and calories burned, import steps from Google Fit or Apple Health, and accurately document weight. Certain fitness watches, such as Garmin or Fitbit, can also be connected directly to the app. This way, you keep a good overview of your diet's success.
Advantages of the app:
Diet diary

Barcode scanner

Training units are included in the calorie balance

Clear and user-friendly

Diet success can be documented
Disadvantages of the app:
Partially very expensive in-app purchases from 6.99 euros to 54.99 euros

Only the calorie counter is available in the basic version
Premium membership:
YAZIO PRO provides various nutrition plans such as low carb, high protein, or low fat and matches over 100 recipes and recipe suggestions. But also different plans for different fasting methods, such as 16:8, 5:2, or 6:1, are selectable. 
In addition, with the PRO membership, you can record sugar, fiber, and salt, evaluate healthy and unhealthy foods and evaluate the research of the last 2.5 years.
Free download for iOS users in the App Store, and Android users in the Google Play Store.
5. Calorie Counter by FatSecret
Nutrient tracker, quick selection of popular foods, barcode scanner, sync with various fitness apps, food diary, workout diary, diet calendar, graphical evaluation of diet success, notebook, image recognition for photos of meals.
How the app works:
FatSecret helps keep track of meals, workouts, and nutritional values. The best thing about it: the app evaluates the successes graphically and creates detailed statistics with which you can optimally track your weight and training progress.
Another advantage of FatSecret is the integrated camera function, which allows you to capture meals and dishes with pictures. With picture recognition, meals can be entered more quickly afterward. The quick selection feature, which remembers favorite foods and dishes, also helps.
Advantages of the app:
Quick selection of favorite dishes

Camera functions to capture and recognize meals with pictures

Graphical representation of successes

Synchronization with various fitness apps

Notebook function
Disadvantages of the app:
No integrated drink reminder in the basic version
Premium Membership:
Premium members have access to advanced workout plans. They also get six additional meal plans, which allow for more precise targeting of eating patterns. There are also various diet plans to match, such as intermittent fasting and a ketogenic or Mediterranean diet. 
Also integrated into the premium membership is drink tracking, which ensures that you are drinking enough.
Free download for iOS users in the App Store, and Android users in the Google Play Store.
6. EasyFit Plus
What the app can do:
Documentation of food, exercises, weight, waist progress and macronutrients, drink tracker, animated statistics, the search function for food and exercises, calculation of calories from own recipes, and individual nutrition diary.
How the app works:
Do you have the goal to lose weight, build muscles and improve your fitness? With the EasyFit app, you can document your diet and exercise successes, track your water consumption, track your weight and waist progress, and view diet progress with animated statistics.
The search function allows you to quickly add foods and different workouts, and you can even calculate the total calories and macronutrients of your recipes.
App Benefits:
Animated display of diet results

Very clearly designed

The search function of all foods and workouts for quick entry
Disadvantages of the app:
Free download for iOS users in the App Store, and Android users in the Google Play Store.
Conclusion: Which calorie counter apps are the best?
Which calorie tracker is right for you naturally depends on your dietary ideas and goals. So you should ask yourself beforehand: Which diet do I want to follow? Interval fasting, high protein, or maybe low carb? What do I want from a calorie counter app?
Should it give me very accurate feedback about my diet success? Should it be quick and easy to implement in everyday life, or is it important to me that it documents my workouts with the help of step counters and app synchronizations?
In this test, we've presented our six favorite calorie counter apps and named their advantages and disadvantages. For those who value accurate evaluation of diet progress, the tracking apps EasyFit and FatSecret are the optimal choices.
The MyFitnessPal app is particularly popular among users. Especially the possible synchronization with various fitness apps enables not only an accurate diet but also training documentation. However, you also have to enter a lot of data.
What we particularly like about the Lifesum app is that it also reminds us of the required water intake and to drink. After all, a sufficient water intake is also of great importance for health and the success of a diet.
Also read: the best app for tracking your goals 2022