Best App to Put Text on Photos – Add creative and elegant captions to your images by installing one of these text-on-image apps. These apps include hundreds of unique, design-oriented, and popular fonts that can be used to create memes, indicate the authorship of shots, and design images with meaningful quotes. A single sentence can help focus the audience's attention and add semantic emphasis.
With these text-on-images applications, you can add text to images with just a few clicks. All you have to do is choose one of over 500 fonts, and adjust the size, color, and even transparency.
Top The Best App to Put Text on Photos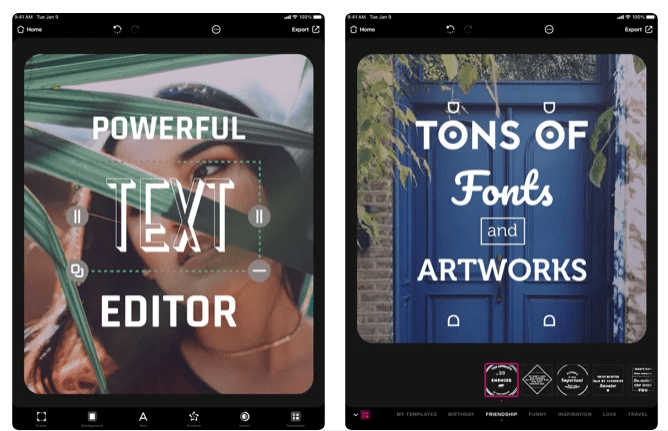 1. Phonto – Our choice
More than 400 built-in fonts
More than 400 fonts
Convenient change of signature angle
Ability to create signature labels
Hundreds of ready-made templates
None discovered
Download the app for iOS | Android
Phonto is the best app for adding text to photos compared to all others. It offers more than 400 built-in fonts that can compete with free Photoshop fonts. Of all the fonts, Cloud Sans, Qanelas Soft, and Bravo are the most commonly used. You can edit the text as you like, adjust its position, change its color and transparency, or align the text to fit perfectly into the image.
The application also stands out for its ability to add text in the form of bubbles, posters, and other fun shapes. Users can move, tilt and resize the elements using their fingers or the arrow keys. Photo allows users to fold the text or delete parts of it. Moreover, the result can be shared on social networks immediately after completion.
2. Over Graphic Design Maker
Wide range of tools
Convenient navigation
Works with videos
Queue messages through the app
Intuitive logo creation
Can resize photos independently
Over is one of the most versatile mobile typography apps. You can add text to an illustration, select a template, or start from scratch. Overworks with both images and videos and allows users to customize color, opacity, size, and alignment.
This app for adding words to images has a wide selection of templates, graphics, and fonts created by brilliant designers and branding experts. For example, look out for Trocchi, Bebas Neue, and Vast Shadow fonts.
Users can share images instantly on social media, but Over also offers the ability to queue them up. The ability to schedule when a post will be published is incredibly useful for busy people.
3. Font Candy
Stylish artistic fonts
Not difficult to navigate
Video compatible
Ability to queue posts in the app
Convenient to create logos
Occasional delays
This text-on-iPhone photo app stands out for its wide range of photo editing features, even as it focuses on typography. Font Candy offers more than 45 artistic fonts combined with robust text editing features, such as caption folding, opacity control, and shadow control. Fonts of particular interest include CandyTimebyLime, Schnickers, and Candy Stripe.
The app treats you to built-in graphics and quotes, as well as fun animations in case you want to make a quick but impressive change. Font Candy lets you save designs and create a watermark, making image editing easier and faster.
4. PicLab
All-in-one image editing application
More than 20 photo filters
Ability to edit text layers
Convenient drawing from scratch
Works with collages
Watermark in the app in the free version
Download app for iOS | Android
PicLab is an all-in-one image editing app. It is suitable for applying text to images and offers users dozens of fonts (e.g. Norwester, Poiret, Aileron) and the tools to work with them.
In addition to typography, it is possible to add textures, frames, or one of twenty creative filters to images, as in image editing applications. The application allows users to resize, rotate, adjust text opacity and use multiple text layers.
PicLab allows users to create their fonts and signatures from scratch, unlike many other apps that let you write on images. But the most significant feature is the ability to create collages from a wide range of templates and add text to them.
5. Typic
500 works of art
Over 300 fonts
Countless effects
Possibility to add a user logo
Many ready-made templates
Complex interface for beginners
Download the app for iOS
Typic offers more than 300 fonts (e.g. Klavika, Gentona, Rambla) as well as filters, effects, and frames. With this app, users can create memes or greeting cards as well as stunning artistic photos.
One of Typic's outstanding features is the ability to add a text signature or logo to an image. At a time, 4 wedding captions, watermarks, or logos can be created for photos, which users can save in the app and apply to any image. This cool feature is ideal for promoting your business.
6. Word Swag
1.3 million completely free backgrounds
Easy to add the logo
Ideal for bloggers
Ability to create high-resolution graphics
Almost all features available in the paid version
Download app for iOS | Android
This app offers hundreds of signatures and 1.3 million free backgrounds from Pixabay, plus some text effects like gold foil, print, and watercolor. It features a large collection of graphic fonts designed by world-class artists. Some of the best include Fenix, Hipstelvetica, and Modern.
Word Swag is the best app to put text on photos if you're a blogger of any level. You can add logos to images, customize fonts as you like, or create high-resolution graphics for printing. However, these remarkable features are only included in the Pro version.
7. Textgram
Instant publishing on Instagram
Add text quickly
Share images on Instagram
Many stickers and filters
Not suitable for image editing
Download the app for Android
Textgram is designed to add text to images quickly and easily. The app offers a wide range of backgrounds, stickers, and filters. Users also have the option to select the aspect ratio of the image to perfectly match covers previously created in Facebook's cover creator.
Textgram is not the best choice if you need advanced image editing features. It offers only basic tools for working with images, but it is a suitable application for adding text to photos. For example, you will find well-known fonts such as Reckless, Maxwell, and Futura.
8. Caption It: Add text to your photo
Quick for text work
Support for multi-line captions
Multiple fonts for captions
Wide range of colors for background and text
Many advertising
Most features are chargeable
Download the app for Android
This app focuses on quickly adding text to photos. The user can choose from hundreds of different designs. However, the color, text, photo filter effects, and more can be changed. The most interesting fonts include Fiber, Humble Rought, and Casual.
Most of the features are already available in the basic version of the program. But for certain backgrounds, additional fonts, and others, the user has to pay extra. In general, the application's features are limited. It cannot be used to create complex layouts but is ideal for simple tasks.
9. Wordphoto
For copyright signatures
Ideal for printers
Option to add your own presets
Handy for watermarks and logos
Small font size
Limited functionality
Get an app for iOS
WordFoto by bicycle is an ideal app for writing photos. It offers several pre-made templates, but users can also create their own presets by mixing text and background color, image, blur and shadow, and brightness and contrast.
WordFoto comes with basic words and phrases, but users are free to add their own words or vocabulary for more in-depth markup and messaging. The app conveniently creates author and watermarks and allows users to quickly apply them as pre-made templates. WordFoto includes dozens of standard fonts such as Arial, Helvetica, and Garamond.
10. Add text to a photo
For quotes and ideas
Suitable for quotes
Option to add your fonts
Ideal for creating memes
Limit the shape of images
Inconvenient to use
Download the app for Android
Add Text To Photo not only lets you add text to your photos. It also lets you create fun images and memes. The app has several sophisticated built-in speech bubbles and cloud templates for capturing quotes.
Adding letters from a variety of fonts, you can arrange, rotate, and style the text to your liking. All fonts are designed by designers (Coves, Fela, Sant'elia). The free version has limited functionality, so you have to pay extra to use all the features.
11. GIMP
The GNU Image Manipulation Program (GIMP) is a free image manipulation program available for GNU/Linux, OS X, Windows, and several other operating systems.
You've probably heard of it because it's the equivalent of Photoshop without an annual subscription.
With it, you'll have a wide range of tools at your disposal, including tools for typography. With GIMP you can achieve great results and edit text and graphic designs in any way you can imagine. It sounds fantastic, but GIMP has the same problem as Photoshop – it's a bit difficult to use and requires some knowledge.
1. open your photo and select the text tool by clicking on the text tool icon in the main toolbar.
2. Click on the place in the image where you want the text to appear.
3. Type the text.
You can also edit the text as you wish at this stage: Want to change the font? Select the text layer and make sure the Text tool is still selected in the main toolbar.
Then go to Dockable Dialogs – Tool Options to open the Tool Options dialog.
There you can change the font and adjust the settings for your text. If you have some experience with graphics editors, GIMP might be your choice.
12. Wondershare Fotophire
Wondershare Fotophire Editing Toolkit is an editing software for the Windows operating system. The toolkit offers a photo editor, a photo editor, and a photo eraser, but you only need the editor to add text to your photo.
The interface is simple and there are not many bells and whistles to distract you. Since it is a real photo editor, you can apply filters, work with colors, and add frames. There are some great blending modes and artwork to work with.
There is also a batch processing feature that makes exporting your images easier and faster. After opening your image in the photo editor, click the large "A" button in the top right of the interface. Select the font you want and click in the area where you want to add text.
Type the text into the text box. This Windows software can be downloaded directly from the Wondershare website for free.
However, the trial version only runs for a few days, after which you will need to purchase the full version. A lifetime license for one computer costs $79.99, and an annual subscription costs $89.99. Unfortunately, the Mac version is not yet available.
13. Canva
This is by far my favorite application for creating typographic images. Canva offers tons of template options that you can customize according to your preferences.
But what I like most about this app is its versatility to create whatever you want. Don't just add captions to your photos, create your typographic images with beautiful designs and templates.
14. Instasize
If you're looking for an app that doesn't just focus on typography, Instasize is for you. It's a full-featured editing app that's perfect for Instagram and TikTok lovers and anyone who actively promotes their business on social media platforms, as it works with both photos and videos.
The editing toolset includes over 20 different fonts to suit almost any style – vintage, chic, quirky, or elegant. Add as many single or multi-layered text blocks as you want and drag them anywhere on the image – anything is possible with Instasize! This comprehensive application offers a wide range of stylish and customizable filters as well as all the basic editing tools, such as exposure, sharpening, saturation, and contrast, to make your masterpieces even more captivating.
There is also a function for adding borders. You can choose one of the patterns from the extensive library, select your photo or use a plain, monochrome color for a clean, polished look. Instasize has a free version and is available for iOS and Android.
However, to use the full feature set, you need to sign up for a premium monthly subscription for $4.99. Premium users have access to all the frame patterns, fonts, and filters, as well as new tools that the developers are constantly adding. If you want to make sure this app meets your needs, you can try it free for 7 days.
15. Typorama
Typorama "automatically" transforms photos and texts into beautiful designs. You don't need to have design skills to create beautiful images with text on top.
This application has no fixed templates, but randomly generates styles that can look good. It is much less time-consuming than professional and high-end programs and applications.
16. DesignLab – Creative Design
DesignLab is another option among apps for adding text to images and is especially geared towards social networks, especially Instagram Stories.
The app has some tools that allow users to create their illustrations from scratch or edit them from one of the thousands of templates available.
DesignLab also lets you choose from dozens of fonts, change their color, size, and opacity, rotate what you've written, and even add a bunch of different effects.
If you're interested in this free app, visit the App Store.
17. Photo editor
Choose from a wide range of fonts to suit your photo and turn it into a powerful typographic image.
Resize, rotate and customize the text on your photo to your liking. The application also allows you to create text shadows that add depth to the text and image.
18. Hype-Type
Is it second nature for you to clutter things up? Simple things aren't your thing, then this app is for you. Animate your text and create these cool text animations.
Just a tip: don't use this app if you want your audience to focus on the beautiful image you're posting. Use it only if you have a mixed background and you want your users to focus on the text and not the background. With this app, you can unleash your words (literally).
19. Quotes Creator – Quote Maker
Here is a simple but creative way to share your thoughts and ideas with the world. You can choose background images from the application or your photo gallery and add nice text to share on social networks. You can also add watermarks, logos, and QR codes to the image.
The user interface is intuitive and easy to use. It also features an extensive collection of quotes with beautiful words about life, love, creativity, and inspiration. There are over 100 fonts to choose from and numerous customization options to make your creations stand out from the crowd.
Price: Free ($3.99 for Pro)
20. Canva
This is by far my favorite app for creating typographic images. Canva offers a variety of template options that you can customize to your liking.
But what I love most about this app is its versatility to create anything you want. Don't limit yourself to just adding captions to your photos, create your typographic images with beautiful designs and templates.
Price: Free
Read more top apps to share family photos private