Best Apps for Baby Photos – It's true what they say: the days are long, but the years are short! And, unfortunately, it won't stay that long with your sweet little bundle of joy. So how can you make sure you capture those precious moments forever?
Let's take a closer look at these photo apps to find out which one is the best app for baby photos. capturing and documenting all those important first moments with your baby.
Top 9: Best Apps for Baby Photos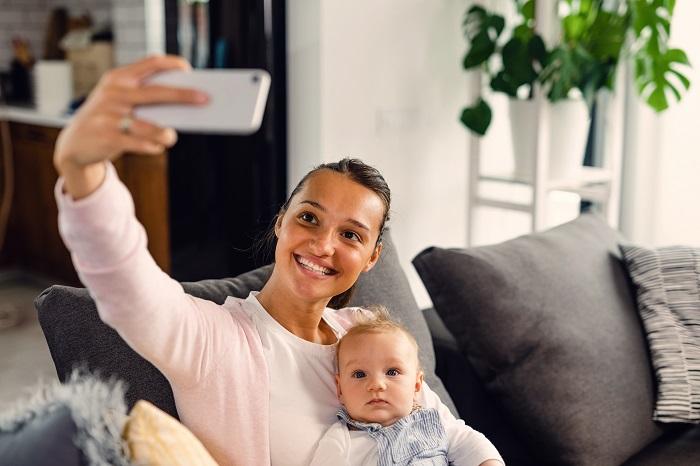 1. Little Nugget: Baby Milestones
With the abundance of technology and photo apps available these days, there are many options for capturing every second with your little nugget.
One of my top picks on this list for the best apps for baby photos editor for your child's milestones is called Little Nugget.
What I love about this app is the ability to customize and personalize each image! It is a creative experience for any parent and makes it easy to create noteworthy shots of your little nugget!
This app is touted as the "most beautiful" way to capture moments with your baby, and I agree! Check out this post on Pinterest to see how other people have personalized stolen moments with their babies.
This app costs a bit, but it's a bargain considering it has a 4.7-star rating on the App Store!
Visit the Little Nugget website to learn more!
This app is currently available for iPhone on Apple's App Store and will soon be released for Android on Google Play.
2. Baby Photo Editor & Journal
Next up is Baby Photo Editor & Journal by PlusMinusOne, Inc. This app is similar to Little Nugget in that you can customize photos, edit images, create collages, and more, but this app is free!
Well, the download is free, but if you want to unlock some premium features, you will have to pay some in-app fees.
Parents give this app pretty good reviews on the App Store, with an overall average rating of 4.7 stars out of 5.
Based on the comments in the reviews section, the biggest problem with this app is that the pricing in this app can be insidious and can stop the fun of photo editing when a pop-up window says that you can only use certain features if you pay around £25 per year.
However, if you're looking for a simple and easy-to-use app that doesn't cost you anything, this app might be perfect for you!
3. Qeepsake: Baby Photo Book & Family Album
The next app is Qeepsake: Baby Photo Book & Family Album, and oh my goodness – I'm obsessed with this app!
If you want more than just cute, Instagram-worthy photos of your little one, if you want to document and record what happens from the moment you see those two little pink lines on your pregnancy test and beyond, then this is the perfect app.
The best thing about Qeepsake is that it sends you questions about your baby and your pregnancy as you go through life. Then you can quickly respond to the message without interrupting your daily rhythm, and Qeepsake records your answers and saves them in your journal!
You can take as many photos as you want – spontaneous snapshots or milestone shots, as announced on Qeepsake's website, and then the app creates a book of memories and sends it to you!
You can get a book every month, every year, or whenever you want! Qeepsake brings scrapbooking into the 21st century!
With nearly 24 thousand followers on Instagram and 4.9 stars on the App Store, this could be the milestone tracker you've always wanted.
Questions, unlimited photos, and milestone tracking? Awesome. But how much does it cost?
Zero. That's right, this app is free! There are some in-app purchases you can make, but those are optional depending on your needs.
4. Totsie – Baby Photo Editor
Wow, here we are at number 4 on this list of the best apps for baby photos milestone trackers. So let's dive into everything you need to know about Totsie.
Available for both Apple and Android products, Totsie allows you to add cute stickers to photos, compare images in a collage format, and more.
Overall, this app is comparable to the other apps listed here in terms of functionality. The app is also free to download, but there are two subscription offers: a monthly fee of around £5 and an annual fee of around £25.
5. Baby Story: Parents Milestone Diary
Number 5 on this list is Baby Story, now available only on Apple products. It provides services similar to the previous product, but with more filters and fonts to play with.
The appeal of this app is the use of stylish illustrations. For example, there are very cute holiday stickers and graphics that can be added to personalize pregnancy milestones and baby pictures.
The app has one of the highest ratings on the App Store with 4.8 stars out of 141,000 reviews. Parents love this app!
6. Shutterfly 
Of course, there's also the usual option, Shutterfly, which has been around for a long time and has a great reputation for producing great photos, photo albums, and personalized trinkets.
The great thing about Shutterfly is that it's very versatile. If you want to use it not only for tracking milestones but also for personalized gifts, frames, and prints, it might be the best option for you.
Shutterfly is like the old father of photo editing apps – reliable, with great reviews, and versatile.
7. Baby Pics – Photo Editor
One of the best things about photo editors is that you can see how quickly your baby changes over time. Like we said before, time does fly!
Baby Pics Photo Editor is number seven on this list of photo editors. It has great fonts, quick sharing options, and, what I like best, beautiful templates.
With Baby Pics, dads and moms can unload their brains and not have to worry about getting creative to create iconic photos! That's because the app comes with time-saving templates that can be personalized or used as-is.
The app is available for Apple and Android products and comes with a free trial.
8. Precious – Baby Photo Art
The next app is Precious – Baby Photo Art. With almost 90,000 ratings and a 4.7-star rating, this app is great for capturing precious moments.
What I love about this app is the video timelapse and the automatic photo album. Yes, the app organizes everything for you. Every month you get a time-lapse photo and slideshow so you can instantly see how much your child has grown in a short period.
You can download the app for free and take advantage of a free trial where you can try all the products.
9. Baby Sticker – Track Milestones
Last but not least is Baby Sticker. This app is available for Apple products and is free to download. It offers lots of fun fonts, stickers, and illustrations to help you creatively highlight your baby's memories.
The app allows you to upload photos taken with the camera or through the app; sharing them on social media is easy and free. The app has two subscription plans – weekly and yearly.
From the moment your baby is born to the first day of school and beyond, you won't want to miss a moment. Capture those precious moments with an app that captures your baby's development.
Read more about the best way to share photos with family