The best iPhone keyboard alternatives 2022 – If there's one thing that sets iPhones apart, it's their simplicity. Like no other smartphone manufacturer, Apple strives to make its products as user-friendly as possible. 
On the one hand, this is reflected in powerful hardware. On the other hand, Apple attaches just as much importance to its software. The in-house operating system iOS is designed to be intuitive for the user. 
However, some functions do not only satisfy the user now and then. One of these functions is the iPhone's keyboard. While many people find it easy to use, others find it too complicated, too small, or not precise enough when it comes to word recognition. 
For those of you who find yourselves in this second group, there are many good alternatives to the traditional iPhone keyboard. We'll introduce you to the best of them.
The best iPhone keyboard 2022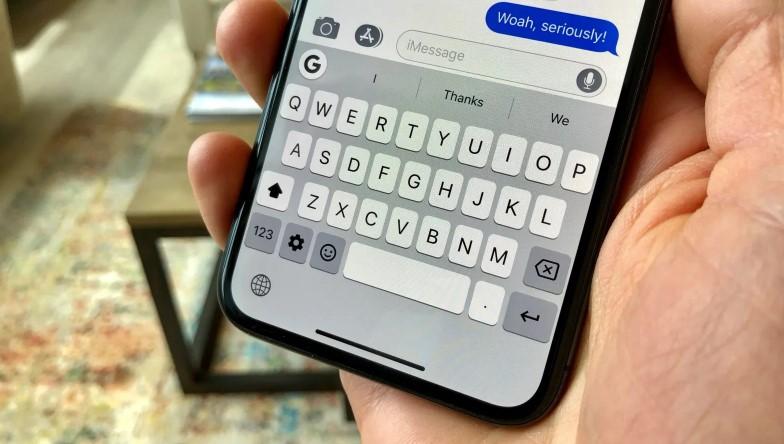 1. TouchPal
This alternative to the classic iPhone keyboard is called "TouchPal" and roughly means "buddy to tap". The application stands out mainly because it comes up with a whole bunch of sophisticated designs. 
Not only can you choose the right one for you from a wealth of different themes, but you can also select the most beautiful one for yourself from various font types. 
In addition, the app provides a large selection of new emojis and offers the possibility to use multiple languages. The application is free of charge and is primarily aimed at the users among you who want to give their conventional iPhone keyboard a new coat of paint.
2. PopKey
When you install PopKey as your new iPhone keyboard, you get one thing in particular: GIFs. This application includes a whole catalog of new and sophisticated graphic animations to send to your friends and acquaintances. 
The good thing is that the database of GIFs is updated regularly, so your GIF selection will always include new and exciting animations or videos. Once you have found your favorite GIFs, you can save them to a favorites list. 
The small downside to the app is that it is currently only available in English. However, if you're mainly interested in using GIFs and don't need automatic word recognition, this won't be a big deal. The iPhone keyboard "PopKey" is available for you for free in the App Store.
3. SwiftKey
One of the most popular keyboards for Android devices is now also available for iPhones: "SwiftKey". The heart of this application is undoubtedly automatic word recognition, which includes suitable word suggestions and effective error correction. 
This "predictive typing" offers great added value, as it simplifies everyday typing on your iOS device and significantly improves the flow of writing. Another plus point of this app is the "Swipe Typing" feature, which roughly means "writing by swiping" in German. With this feature, instead of typing, you can swipe from letter to letter to create your words. 
At one time, there was even a dedicated app for this called "Swype" that allowed you to write your sentences by swiping, but it was discontinued. Thanks to the free app "SwiftKey", you can now use this extremely practical function again. 
Overall, "SwiftKey" mainly offers many good features that make composing messages easier.
4. Blink Keyboard
The great added value of this iPhone keyboard is that it allows you to enlarge the input area. 
Meaning: the individual letter keys are easier for you to reach. Moreover, you can detach this iPhone keyboard from its original position at the bottom of the screen and slide it freely over your display. 
Furthermore, you can even split the keyboard in two, so that you have two small keyboard blocks. If you have phrases and certain sentences that you use regularly, you can save them and easily paste them later if you wish. 
The bottom line is that this app is mainly for the users among you who want new and innovative input methods that stand out from the rigid defaults of the classic iPhone keyboard. 
Note: Some of these sophisticated features are only available in the Pro version for $1.99. Otherwise, the app is free.
How to install an alternative iPhone keyboard
Unlike other apps that you can simply download and use, keyboards require you to unlock them first. This means that you have to add them to your regular iPhone keyboard first. If you speak multiple languages, you already know this process. 
If you want to use automatic word recognition for English, Spanish, Russian or Turkish, for example, you also need to add the dictionary of the corresponding language to your standard keyboard first for this. 
In the case of the alternative iPhone keyboards, it's similar: after downloading one of the above keyboards, go to Settings > General > Keyboard > Keyboards > Add Keyboard and select the newly installed keyboard under the "Third-party keyboards" menu item. Once you have done this, you can henceforth use the new keyboard, similar to the dictionary of another language. 
For example, open WhatsApp or another app in which you can compose messages until you are shown the keyboard input as always. Now tap on the small globe icon and select your newly installed keyboard – similar to another language. 
So, to use an alternate keyboard, you don't need to open the actual app "SwiftKey" or "TouchPal". Instead, you use these keyboards within your other apps as an alternate language, so to speak. This means that your classic keyboard will still be there.
Also read: 10 Best Phone with a Stylus Pens for 2022