The Best Note Taking Apps on Ipad – As a developer for functional iPad holders, we are intensive iPad users ourselves and organize our own everyday life with note apps. Especially for the efficient use of note apps in everyday life, we have developed our iPad holders: They help you to hold the iPad comfortably and stably in different situations and offer easy and intuitive storage for your Apple Pencil so that it is always at hand when you need it. Through extensive testing, we've gained a good overview of the best note-taking apps and would like to share it with other iPad users for guidance.
1. Notability
Notes app with countless organization options
Price 9.99€ | Inn app purchases 1.99€ – 3.99€

2. GoodNotes 4
Countless design and organization options
Price 7.99€ | Inn-App Purchases –

3. Google Notes
Google's excellent free product
Price free | Inn app purchases –

4. EverNote
Create multimedia notes and lists
Price free | Inn app purchases 2.99€ – 59.99€

5. MS OneNote
Create, categorize and transcribe in MS OneNote
Price free | Inn app purchases –

6. Wunderlist
The list planner for everyday life
Price free | Inn app purchases 4.99€ – 49.99€

7. my script memo
Speech talent and Apple Pencil fan in one
Price free | Inn app purchases 1.99€

8. Beesy
Ideal for project management and business
Price free | Inn app purchases €1.99 – €69.99

9. notes
Notes app and text editor
Price free | Inn app purchases 9.99€ – 19.99€

10. INKredible
A blank page without distractions
Price free | Inn app purchases 0.99€

11. snappen
Quickly scribble something
Price 0.99€ | Inn app purchases –

12. skitch
Quickly mark-up, annotate and pixelate
Price 1.99€ | Inn app purchases 1.99€ – 44.99€

13. Simplenote
Automatic synchronization is completely free
Price free | Inn app purchases –

14. Paper | 53
Painting and drawing app with note functions
price free | Inn app purchases –

15. Inclass
App especially made for pupils and students
Price free | Inn app purchases 0.99€
Review: The 15 Best Note Taking Apps on Ipad Pro and Apple Pencil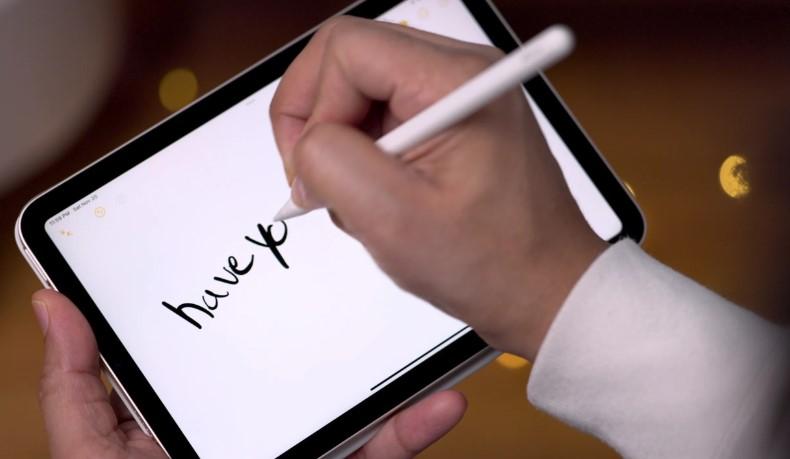 1. NOTABILITY
NOTES APP WITH COUNTLESS ORGANIZATION OPTIONS
Notability is a super notes app perfected for Apple Pencil and iPad Pro. In addition to the countless editing, organization, and design options, you also can import and edit PDFs. Even web pages can be imported into PDFs via "Share Extension".
You want your notes to run animated during the audio recording, with Notability no problem anymore! Even synchronization is handled automatically by this notes app, so all devices have the same progress.
ADVANTAGES AND SPECIAL FEATURES
Perfected for Apple Pencil and iPad Pro
Spotlight searches note entries on the iPad
Accurate handwriting even with your finger
Countless editing, organization, and design options
"Share Extension": web page to PDF
Animated notes run to your audio recordings
Automatic synchronization with other devices
DISADVANTAGES
PRICE
9.99€ | in-app purchases: 1.99 – 3.99€
2. GOODNOTES 4
COUNTLESS DESIGN AND ORGANIZATION POSSIBILITIES
This note-taking app from Time Base Technology enables high-resolution reproduction of your drawings and sketches thanks to "digital-ink" technology. Even your handwritten notes can be searched by GoodNotes4 or you can simply use it as a writing program because it is perfectly suitable for use with a keyboard.
There are also no limits to the design and editing of the notebook, as well as its "paper" templates. Do you want to share certain content with other people? Then do this on the Digital Whiteboard. In the end, secure your data externally as well by exporting it via Dropbox, Google Drive, and many other providers.
ADVANTAGES AND FEATURES
The "Digital-Ink" technology enables high-resolution rendering
Handwritten notes can also be searched by GoodNotes 4
Corrects geometric drawings
Ideal to use with a keyboard as a writing program
The digital whiteboard allows content to be shared publicly
Countless design and organization possibilities
DISADVANTAGES
I could not find any real disadvantages
PRICE
3. GOOGLE NOTES
GOOGLE'S EXCELLENT FREE PRODUCT
Google notes works on your iPad, as well as iPhone and iMac. It does this by syncing all your notes automatically, without any extra charges. Google's notes app has multiple organization options and transcribes your audio recordings when you need to speed things up. Adding audio and photo files is also no problem.
ADVANTAGES AND FEATURES
Google Notes transcribes your audio recordings
Complex organization options
Automatic synchronization with your devices
Great value for money: the app is completely free!
DISADVANTAGES
PRICE
4. EVERNOTE
CREATE MULTIMEDIA NOTES AND LISTS
Create entire notebooks, to-do lists, and checklists with Evernote. Like any note-taking app, however, Evernote's product offers a variety of other options. Add text, drawings, audio and video files, PDFs, and more to your notes! Evernote also transcribes your dictated notes, which is a huge time saver in everyday life.
Also, scan documents and pictures with your camera and digitize your analog media. Sync & Cloud allows you to work with the same data on all your devices. Finally, a clear filing and search system rounds out the many features of this note app.
ADVANTAGES AND FEATURES
Create notebooks, to-do lists, and checklists
Add texts, drawings, audio & video files, PDFs, and much more to your notes
Transcribe your dictated notes, digitize photos and documents
Scan your business cards and digitize them with it
Sync & Cloud lets you work with the same data on all devices
Many organizing and editing options
DISADVANTAGES
Relatively expensive in-app purchases to use all of Evernote's features
PRICE
Free | Premium: 2,99 – 59,99€
5. MICROSOFT ONENOTE
CREATE, CATEGORIZE AND TRANSCRIBE IN MS ONENOTE
Create, edit and share your notes. Whether it's PowerPoint or a web page, there's room for everything in OneNote's notes. Categorize and tag notes to keep a broad overview. Thanks to Cloudsnychronisation you have access to your data from all devices, which allows you to share and edit data in groups. Moreover, the notes app transcribes your handwritten drawings.
BENEFITS AND FEATURES
Categorize and tag your notes
Integrate PowerPoint and web pages with notes
Transcribes handwritten notes
Sync & Cloud lets you work with the same notes on all devices
DISADVANTAGES
Manageable features within the app
PRICE
6. WUNDERLIST
THE LIST PLANNER FOR EVERYDAY LIFE
According to Verge magazine, Wunderlist is something like the best list planner for your iPad. Reason enough to take a closer look at the notes app. Auto-syncing allows you to access the app from all of your devices. Whether it's your shopping list, to-do list, or travel list. Create reminders and expand them with drawings, notes, or other files. Wunderlist comes up with other great options to make your everyday life easier. The perfect planner for you, your family, and your work!
ADVANTAGES AND FEATURES
Predestined for list planning of any kind
Auto sync with your devices
Add drawings, notes, and many other data formats to your reminders
Ideal also for the work environment
DISADVANTAGES
No direct disadvantages found with this notes app
PRICE
Free | unlimited access: 4.99 – 49.99€
7. MY SCRIPT MEMO
LANGUAGE TALENT AND APPLE PENCIL FAN IN ONE
MyScript Memo is perfect for using the Apple Pencil, as you can use this notes app primarily as a drawing and writing program. Besides the many editing options, the built-in handwriting recognition offers you support for a whole 63 languages! The handwriting protection mode prevents you from making mistakes by placing your hand on the touchscreen. Among other things, the app is also suitable for left-handed users due to handwriting recognition.
ADVANTAGES AND SPECIAL FEATURES
Ideal for use with the Apple Pencil
Writing and drawing application
Handwriting recognition supports 63 languages
Handwriting protection mode prevents errors when working with the Apple Pencil
DISADVANTAGES
Export function of written texts must be purchased
PRICE
Free | text export function: 1.99€
8. BEESY
IDEAL FOR PROJECT MANAGEMENT AND BUSINESS
Beesy is an app that is ideal for the working world. The integrated to-do manager automatically creates lists from existing appointments and notes. So you can always prepare and follow up on meetings and projects quickly. Audio recordings, images, and GPS data also provide you with comprehensive options, such as recording a travel plan. The intelligent management system learns from your input, as well as content, and thus gradually adapts to your tasks. This comprehensive notes app is also best suited for the use of a keyboard. If you ever get stuck: Just use the internal tutorials or help wizards.
ADVANTAGES AND SPECIAL FEATURES
Ideal for project management in companies
Intelligent and time-saving management system
Integrated to-do manager
You can perfectly use the keyboard on the iPad
Various support options within the app
DISADVANTAGES
Very complex
Partly high additional Inn-App purchases
PRICE
Free | Inn app purchases: 1.99 – 69.99€
9. NOTES
NOTES APP AND TEXT EDITOR
With Notes, you've found the ideal aid for coordinated planning. Add recordings, photos, and theme templates to your notes all at the same time! At the same time, Notes offers almost all the features of a real text editing program with language support. Also, exporting your notes to Dropbox is possible.
ADVANTAGES AND SPECIAL FEATURES
Real writing program implemented
Recordings, photos, and notes available at the same time
Export to Dropbox possible
DISADVANTAGES
Price higher than other note apps of this format
Not suitable for Apple Pencil
PRICE
7.99€ | Premium Account: 9.99 – 19.99€
10. INKREDIBLE
A BLANK PAGE WITHOUT DISTRACTIONS
INKredible is designed to be simple, but with attention to detail. Thanks to its novel display technology, it corrects any handwriting. Even when zooming or printing, the resolution remains optimal. Well suited for use with the Apple Pencil.
ADVANTAGES AND SPECIAL FEATURES
Simply designed notes app for any field of activity
The app is "like a blank page" – without distraction for the user
Novel display technology manipulates and corrects any handwriting in the app
DISADVANTAGES
Limited design and editing options
PRICE
Free | in-app purchases: 0.99€ each
11. SNAPPING
QUICKLY SCRIBBLE SOMETHING
The SnapPen app is perfect for use with the Apple Pencil. It is based on sharing picture notes, photos, and texts. Label and decorate within the app. The app offers a simple user interface, as well as a zoom-in and zoom-out feature. SnapPen is in short a simple notes app to quickly scribble something.
ADVANTAGES AND FEATURES
Ideally suited for the Apple Pencil
Based on sharing picture notes, photos, texts, and much more
Simple user interface
DISADVANTAGES
Only available in English
PRICE
12. SKITCH
QUICKLY MARK, ANNOTATE AND PIXELATE
Add your comments and notes to photos and PDFs. Skitch, from the house of Evernote, offers an easy-to-use application in the field of a notes app, for example at universities or in private life. In addition, you can send your collected notes via various channels.
ADVANTAGES AND SPECIAL FEATURES
Quickly annotate and mark up photos, texts, maps, web pages, etc.
Pixelation of certain areas possible
Places can be searched on a map and saved as an image for further editing
PDFs can be edited
Sending to Twitter, Evernote, Email, Message, Facebook, etc.
DISADVANTAGES
PDF function is chargeable
PRICE
Free | PDF function: 1.99€
13. SIMPLENOTE
AUTOMATIC SYNCHRONIZATION AND COMPLETELY FREE
Simple Note is a simple note app for taking notes and then organizing your notes or lists. It automatically syncs with your other devices but requires an account on the app's website. After that, file sharing and subsequent editing of the content becomes possible.
ADVANTAGES AND FEATURES
Synchronization is automatic
Simple user interface for notes
DISADVANTAGES
An account must be created on the website
PRICE
14. PAPER BY FIFTY-THREE
DRAWING AND PAINTING APP THAT ALSO HAS NOTE-TAKING FEATURES
Create and link your notes with pictures and great-looking drawings. Furthermore, you can use the spotlight tool to highlight areas in your pictures. A bonus here: You can convert your notes to PDFs and even PowerPoint! All in all, Paper offers a very aesthetic overview of notes and sketches.
ADVANTAGES AND SPECIAL FEATURES
Free app with PDF function
Conversion to PowerPoint possible
Completely free – also the in-app purchases
DISADVANTAGES
Notes and drawing app with default options
PRICE
Free | in-app purchases: free
15. INCLASS
APP ESPECIALLY FOR PUPILS AND STUDENTS
inClass is a note-taking app for the forgetful student and made primarily for the school day. Download the app to help your kids keep track of their schedule and any projects. the class combines notes with videos, audio recordings, and texts. Versatile memory and selection options round out the app, as do tutorial videos on its own YouTube channel.
ADVANTAGES AND SPECIAL FEATURES
YouTube channel with its own tutorial videos
Many data can be added to the notes
Perfect for today's student
DISADVANTAGES
No obvious disadvantages to this app
PRICE
Free | Inn app purchases: 0.99€
Also read: The best app for setting your goals in this years